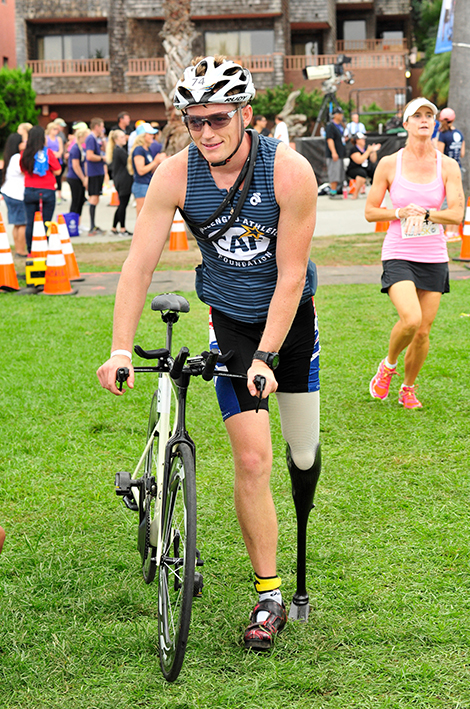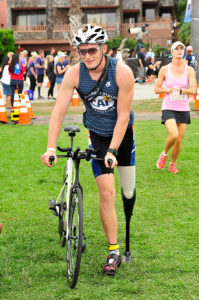 Sport: 
Triathlon
Biography:
Mike grew up in Sacramento, CA and in high school was a member of the Air Force ROTC drill team.  Mike enjoyed the military structure that ROTC provided and in 2003 he joined the Navy.
After boot camp, Mike was assigned to an F-14 squadron and deployed to the Middle East.
After deployment, Mike lost his leg in a tragic motorcycle accident. Though now an amputee, Mike was undeterred by his injury and petitioned to stay in the Navy.  After almost a year of physical therapy Mike demonstrated to a Naval medical board that he was capable of handling the physical rigors of military service and was permitted to remain on active duty.
Upon receiving his clearance to stay in the Navy, Mike was forward deployed to Japan.  In 2008 Mike was reassigned to Naval Air Station North Island in San Diego, CA where he worked as a parachute rigger.
With CAF Operation Rebound's support, Mike has competed in a number of sprint and half-distance triathlons.  In 2011, Mike earned a spot on the Paratriathlon National Team and he has since competed around the world. He now has a goal of qualifying and competing in the inaugural appearance of Paratriathlon at the 2016 Paralympics.
"Being part of CAF Operation Rebound has meant a rebirth for me. Through sports I have refocused on the abilities I have vice those I have perceivably lost. "CAF has given me a great gift, and made me realize that though injured I am not broken."-Mike Johnston