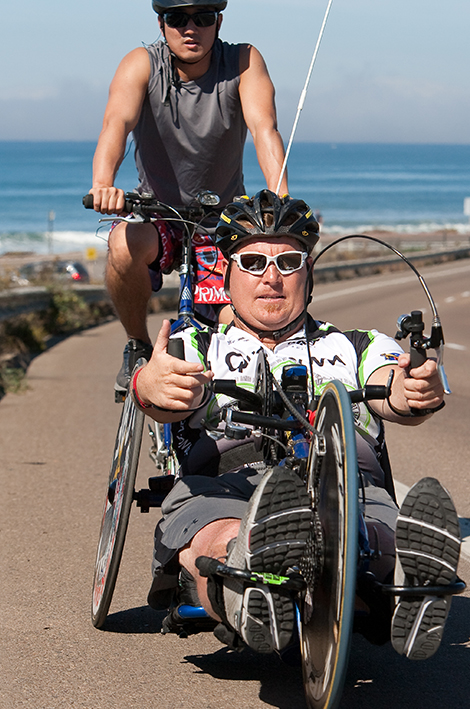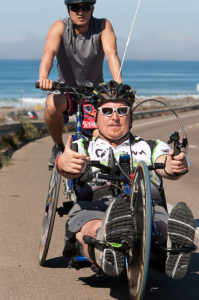 Sport: 
Triathlon, Marathon
Biography:
A native of Huntington Beach, CA, Sean Simonson spent much of his childhood heavily involved in team sports and activities such as football, baseball, Junior Lifeguards and the Huntington Beach Search and Rescue program. Following college at UC Santa Barbara, Sean started working as a firefighter.
In April 2006 Sean was involved in a terrible mountain bike accident in which he landed on his head, breaking his neck and instantly became a quadriplegic. Initially doctors said Sean would not regain any movement and would require around the clock home health care for the rest of his life.
Sean proved the doctors wrong. Not only did he regain movement and independence through the use of a wheelchair, he returned to the fire department as an Emergency Preparedness Director in Northern California.
With the support of the Challenged Athletes Foundation, Sean has competed in several marathons and triathlons and aspires to qualify for the U.S. Paratriathlon Team.
How Does Operation Rebound Help?
Operation Rebound provides unparalleled sports opportunities and support to our troops and veterans of any branch of service and first responders who have served honorably and have suffered permanent physical injuries. Grants are awarded for event travel, lodging, entry fees, training and equipment.
How Can You Help?
Make a tax-deductible contribution to Challenged Athletes, Inc., (dba Challenged Athletes Foundation) a non-profit 501 (C) (3) organization. To make a donation, please call (858) 866-0959, send a check to the address listed below, or make a secure payment through our website: www.challengedathletes.org.