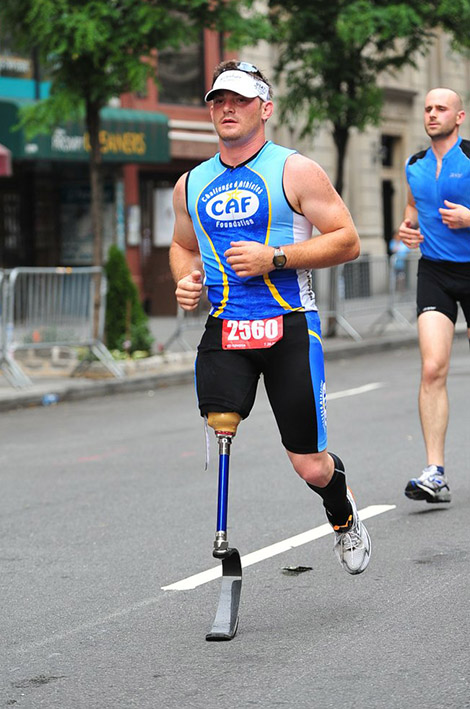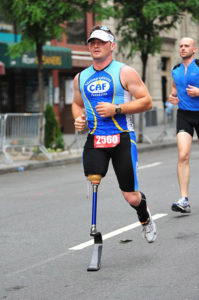 Physical Challenge: Above-Knee Amputee
Sports: Sitting Volleyball, Triathlon, Wrestling
Hometown: From Pocatello, Idaho & lives in Boise, ID
Travis chose to amputate his leg after a fatal tumor caused by Osteosarcoma was discovered in his knee.  After battling through chemotherapy, a series of aggressive staph infections and countless surgeries, the only options were to have a fused, intact but useless knee, or amputate it with the intentions to run and compete again. Travis ultimately chose the amputation which would help him continue to compete and participate in sport.
Since then, Travis has reached the International stage in his two chosen sports, sitting volleyball and triathlon. He has also made an active effort to give back to his community through sport.  Travis has coached high school wrestling since graduating from high school and for the past eight years has been the Head Coach of his alma mater. Some of Travis's other notable accomplishments include appearing in a television commercial during Super Bowl 49, and being passionate about traveling, photography and food! He also is very passionate about mentoring other amputees and cancer survivors through Challenged Athletes Foundation's mentorship program.
Travis likes to stay active through participation in triathlon and is a member of Team USA sitting volleyball.
In The Media
Challenged Athletes Live Q&A with Bob Babbitt: Episode One | Travis Ricks
CAF surprises five amputees in five days with life-changing Össur running prosthetics
Travis Ricks | Team USA Profile