Mohamed Lahna's Journey to Conquering Zombie Hill, Norseman
When Mohamed Lahna was born in Morocco with a birth defect that left him without his femur, his parents feared he would never walk. 35 years later he became the first challenged athlete to cross the finish line of one of the toughest Ironman distance triathlons in the world: theIsklar Norseman Xtreme Triathlon. This was just one of many challenges that Mohamed has braved over the last few years including the Marathon Des Sables, the swim across the Gibraltar Strait and several IRONMAN races.Here is Mohamed's journey in his own words to bringing home Norseman's coveted black t-shirt on August 5th 2017:
Athletes compete from around the world through Norway's amazing landscape in the Isklar Norseman Xtreme Triathlon;the ultimate test of determination, grit and sportsmanship.
There is no doubt about the unique adventure this race offers the select group of athletes and support crew who dare to attempt it. Athletes begin the race by jumping off a ferry into a cold, dark fjord, swimming 3.8 km. The bike is 180 km through the Norwegian wilderness with five mountain climbs and a total of 4.1 km vertical ascent. The 42.2 km run starts off on a mostly flat roadway with scenic views of a lake, only to hit the athletes with "Zombie Hill†after 25 km.
This 7 km switchback ascent leaves many walking, crawling, and hoping to make the cutoff point, where only the first 160 athletes under 14 hours get to continue onto the steep rocky climb towards the top of Mount Gaustatoppen.
Those who make it, get the infamous black t-shirt. Those who miss the cutoff, but finish the last 10 km on a trail get awarded a white t-shirt.
In 2014, I raced the infamous Norseman. It was an unbelievable race where you have your close friends and family acting as your own personal support crew; providing nutrition, equipment/clothing changes, and general moral compass throughout the race. I was devastated when I barely missed the cutoff and had to turn around, finishing the race with a white t-shirt.
That day, I told myself I would probably not come back. The race was too hard. Zombie Hill did just that; turned me into a zombie. The next day, during the t-shirt ceremony, I saw all the athletes; some with white, some with black, and some with no t-shirts at all. There is something special about Norseman. You make friends along the road. You meet every athlete's family and friends who travelled to provide support. You feel the respect everyone has for one another for even daring to take on this crazy race.
After that moment of clarity I had a change of heart and knew I had to come back.
I took a break for a few years to focus on the Paralympics. It's not every day you get a shot at making the first-ever triathlon event in the Paralympics so I wanted to make it count. Going to the 2016 Rio Paralympics was an unbelievable experience and after all the sacrifice my family and I had made, I knew I couldn't go home empty handed. I am so proud to have stood on the podium, earning my Bronze medal that day.
When the Paralympics ended, my first thought was,Norseman. I had to get that black t-shirt. With some experience from before and added motivation, I gave it all I had come race day.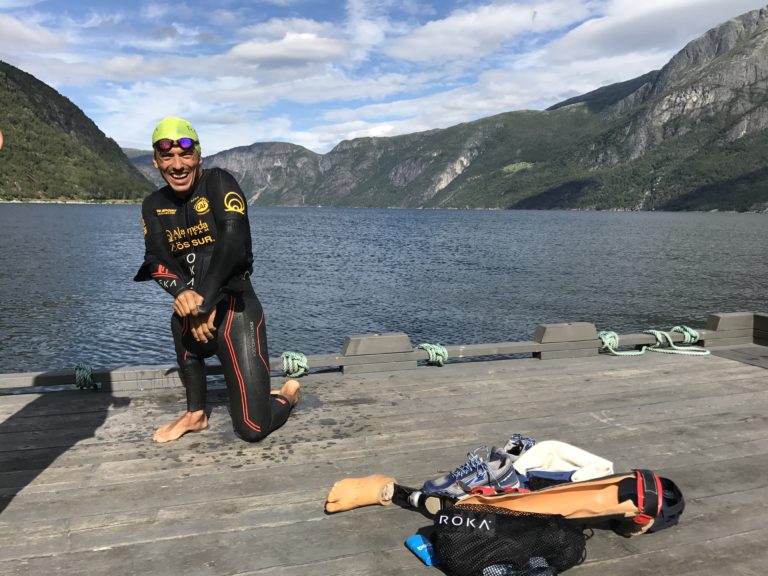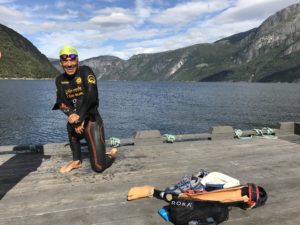 The swim was better than I expected, coming out 25th out of 250 athletes. I was so excited about my time coming out of the water that my wife had to give me a reality check to focus on the remaining challenges ahead.
I'm not quite sure what came over me, but I had one of the best cycling races of my life. Despite the fog and rain, I managed to finish within the first 56 athletes with plenty of time to make the cut off…or was it?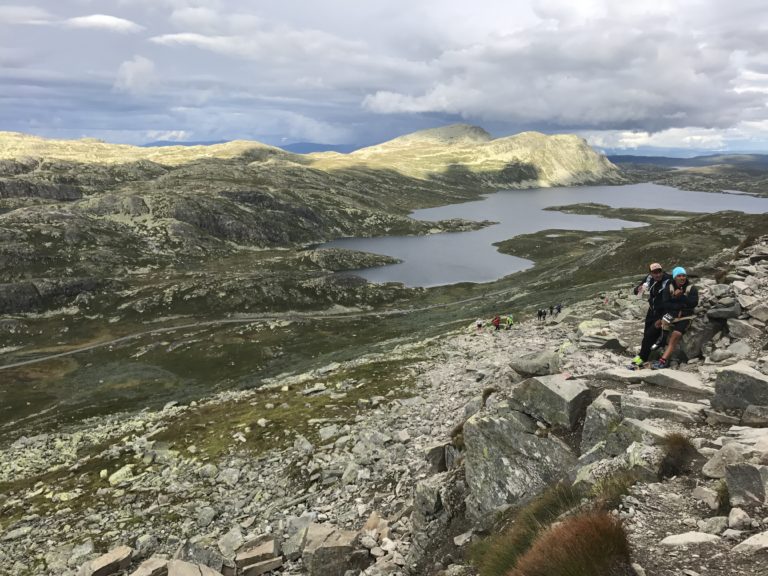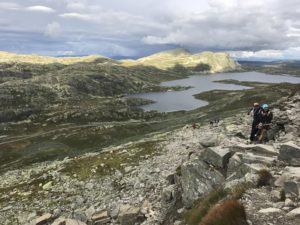 I started off my run with a stomach that was not so happy with me. I couldn't take any food in, but couldn't force myself to vomit anything out either. Zombie Hill came with a vengeance and one athlete after another started to pass me. It was discouraging to hear my position drop from such a lead; 60th, 70th, 80th, 90th. I was starting to doubt if I was going to make it after all.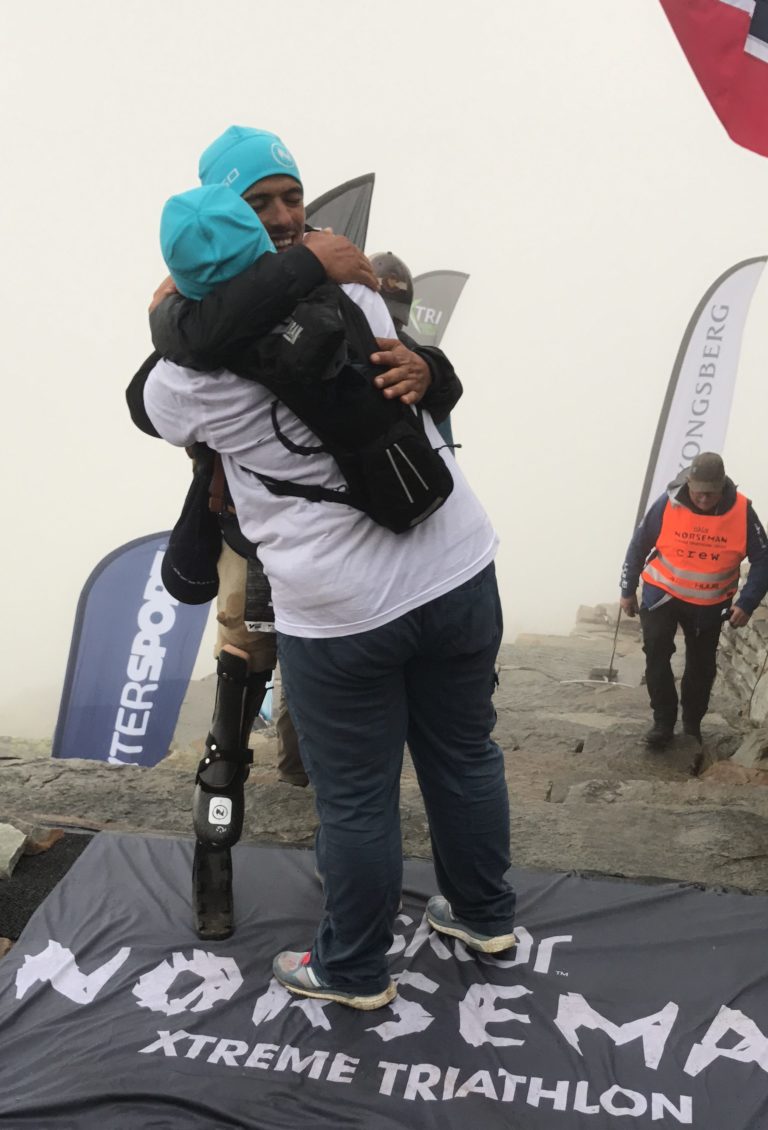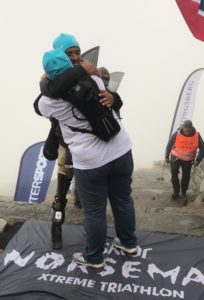 Somehow, I pulled out of it, and made my way to the end of the hill, greeted by the most amazing people telling me I had made the cutoff! Now there was only 10 km left to the top, the last 4-5 km essentially being a hike up the mountain. There are some crazy folks who run up this like mountain goats, but I had to take one careful step at a time with my crutches.
It was the longest 5 km, taking almost 2 hours to climb, but I made it to the top, becoming the first-ever physically challenged athlete to have claimed the black t-shirt. I am pretty sure I won't be back for another Norseman after that climb, but then again, who knows.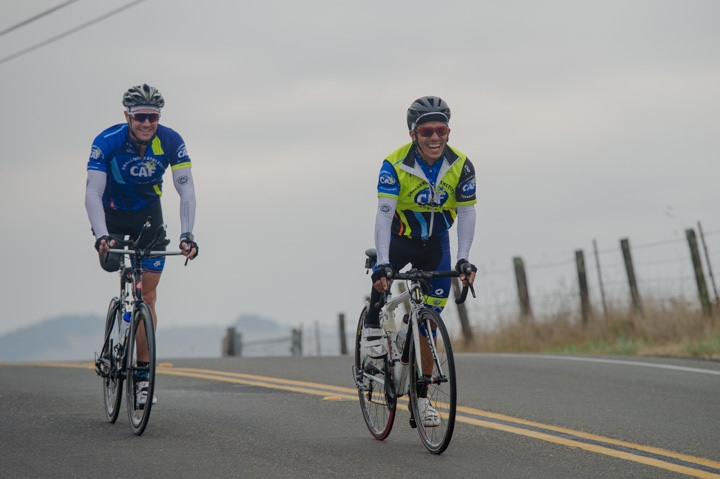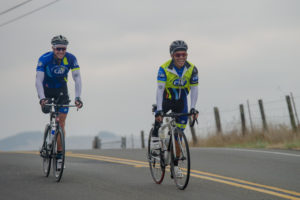 After an intense race, I came home and participated in one of my favorite charity events: CAF's Back to Back Nor Cal ride, a three-day bike ride through Napa Vally raising funds and awareness for people with physical challenges. This year was my 4th time doing this ride. While it's an awesome workout, it's also a reunion ride with fellow CAF friends and an opportunity to make new connections.
I'm so happy to be a part of the CAF family which has given me the support and opportunities to push harder and go further.
to help athlete's like Mohamed reach the top oftheir mountain.