By Tina Weidenkeller, CAF Supporter
Back in the late 90's I had heard about the San Diego Triathlon Challenge (SDTC) so I just had to experience it for myself. It completely moved me and I found myself excited to return every year! The energy is electric, the athletes are inspiring and the love for the mission is loud and clear…provide opportunities through sports and fitness to individuals with physical challenges.
CAF believes that involvement in sports at any level increases self-esteem, encourages independence and enhances quality of life. As an able-bodied athlete, I believe this whole-heartedly and have even built my career around fitness. At Freemotion Fitness, I sell commercial fitness equipment to gyms and and facilities. Not only does movement help us to be healthier human beings but, it also rounds out individuals in other aspects of life. Having goals help build motivation, determination and self-esteem, which will help anyone in the boardroom or on the playing field!
Reunite
The CAF community weekend featuring SDTC truly feels like a family reunion. I look forward to seeing the amazing friends I've made throughout the years at CAF. We all share a common passion for supporting athletes with physical challenges.
What I love most about being out on the course is the camaraderie and encouragement between everyone. Today more than ever after what our world has gone through we need human interaction and connection. We are not meant to go through life alone.
SDTC lives up to its reputation and really is THE BEST DAY IN TRI!
Gratitude
Gratitude is a gift we should all embrace every day. I am grateful that I discovered a passion for helping others. Along this journey of helping to change the lives of many challenged athletes, it's my own life that has changed the most.
I believe if there are a lot of us doing whatever it is we can, TOGETHER we can truly make a difference. If that means donating $5 or $5000, every bit helps and if it means volunteering your time at an event or a clinic, that is just as meaningful. If you can find "your" way to get involved, I promise you, your life will change!
Connection
We're all people who want and need human connection regardless of our different abilities! As Jami Marseilles one said, "you wake up in the morning get dressed and put your shoes on to go run or get to the gym. I do the same except I put my legs on."
Jami is a bilateral amputee and has become one of my best friends through CAF. My husband Tim and I were lucky enough to be her run guides at the 2016 Boston Marathon. That day will forever be etched in my heart!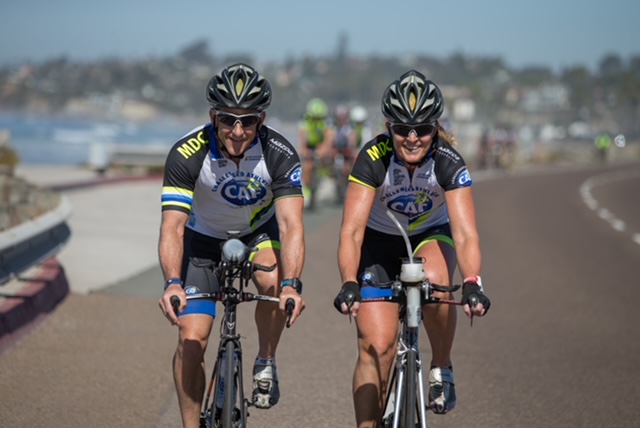 Million Dollar Challenge
Tim and I conquered the coast on the 2016 Million Dollar Challenge and we plan to return in 2022! It is #MoreThanARide! We rode 640 miles in 7 days from San Francisco to La Jolla with 100 other passionate cyclists, 15 of them challenged athletes breaking down barriers of what's possible!
We had so many opportunities to get to know the riders because you have 7 days together. It's so special and unique to have a diverse group that are all passionate about CAF and our own athletic goals. It's the ultimate luxury athletic vacation for a great cause. Awesome hotels, food, massages, great riding, inspirational stories and great memories. The CAF staff truly takes great care of us!
Fundraising
I guess when you're passionate about something or really believe in something, things come together! Over the years I've put on a lot of fundraisers to help raise money for CAF but to share their mission and how I've personally seen lives changed. On Sunday, September 26, I'm hosting my own fundraiser at West Grove Fitness in Garden Grove.
Everyone needs to experience SDTC and the Community Weekend in Mission Bay this year! Whether you're a beginner or competitive athlete, there are so many ways to get involved. Your efforts will help ensure that the most vulnerable population won't be left behind. You'll be creating opportunities for challenged athletes to be involved with adaptive sports, fitness, community connections, and inclusion in society's health and wellness activities.
Sign up, do some fundraising, get an amazing goodie bag and don't miss out on THE BEST DAY IN TRI!