Adaptive Equipment for Powerlifting
Adaptive Equipment for Powerlifting
The range of equipment for powerlifting includes various types of equipment & attachments, harnesses, and straps for skin protection, gripping devices, and much more. Scroll below to learn more…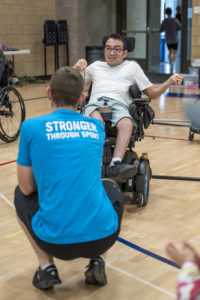 EQUIPMENT & ATTACHMENTS
Various types of equipment and attachments for equipment are available for individuals to use while powerlifting. Some of these devices include a single arm rowing attachment, bar jack, different types of jump ropes, and more. See below to learn more about these types of equipment…
Adaptive Bench Press
The adaptive bench press has a wider bench, providing more stability while lifting weights. There are two roller sets on the supports that quickly re-center the barbell while in use.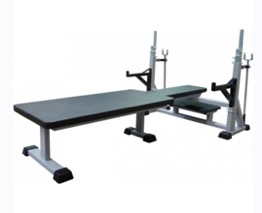 Single Arm Rowing Attachment
The single arm rowing attachment is designed for rowing machines and hooks to both sides of the traditional handlebar. Once hooked onto the rowing machine handlebar, the rower can be pulled with equal distribution of force on both sides.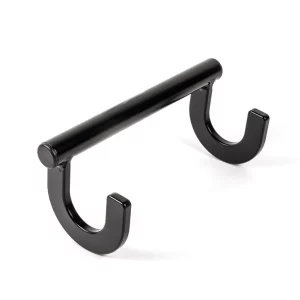 Bar Jack
A few bar jack products are available and designed to lift the bar off the ground for the athlete to add and remove plates with one arm with ease. The bar jack shown in this image elevates the entire barbell off the ground and has wheels for convenient transportation of the barbell and weights.
Information and photo pulled from Rogue. Bar Jack.
Flip Pull & Lift
The flip pull & lift is designed for athletes to lift heavy, with straps attached for athletes to have ease with grasping, lifting, and dragging the weight during their workout. This device is made of foam and has weights in the middle.
Information and photo pulled from Equip Products. Flip Pull & Lift.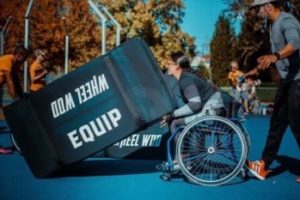 Barbell Markers
Barbell markers are designed for individuals with visual impairments to locate where to place their hands on the barbells quickly and accurately while lifting. The device consists of a thin layer of foam that wraps around the barbell and is placed where preferred by the individual. An alternative option may include the use of white contrasting tape placed on the barbell.
Information and photo pulled from Equip Products. Barbell Markers.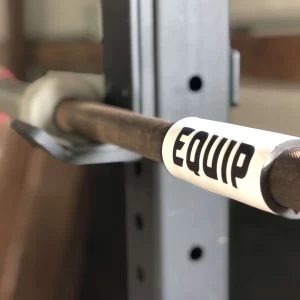 Monster Rope
The monster rope is a heavy-duty rope that is designed to be whipped in a forward and backward motion. The backward motion activates shoulder muscles that are not regularly activated in wheelchair users. The monster rope is great for strength and cardio training.
Information and photo pulled from Equip Products. Monster Rope.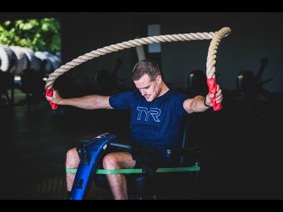 Mono-Rope
The mono rope is similar to a standard cable jump rope but has one handle connecting two ends. The mono-rope is designed for an individual to jump rope by holding onto the handle attached to both ends of the rope.
Information and photo pulled from RXSG. Mono-Rope.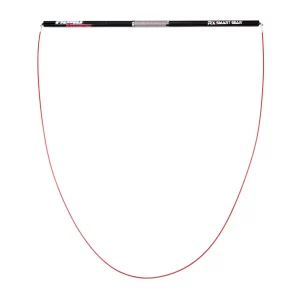 Multi-Rope
The multi-rope has two separate ropes that are shorter in length on a handle. This device allows an individual to spin the jump ropes with the same motion of the arms as when a standard jump rope is used while powerlifting.
Information and photo pulled from Equip Products. Multi-Rope.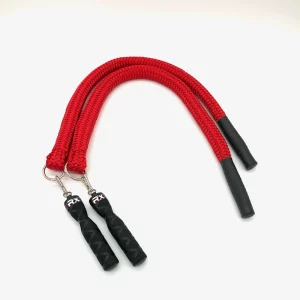 HARNESSES & STRAPS
Harnesses & straps are available with a variety of purposes, whether for injury prevention or for increased stability while using workout equipment. See a few of these devices below to learn more…
Arm Harness & Strap
This device is designed for single arm use while completing lifting workouts such as deadlifts, pull-ups, etc. The harness attaches around the individual's chest, and nylon straps attach around the barbell. There is a quick release option for upon completion of the exercise if needed.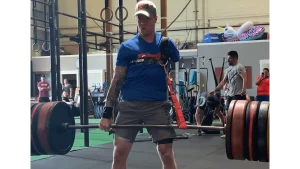 Leg & Body Straps
Leg & body straps are designed to secure an individual's legs in place during completion of pull-ups, ring dips, muscle ups, etc. Use of this device helps to prevent injuries during lifting by adding a level of security and protection to the lower extremities while exercising.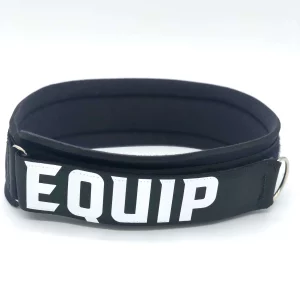 GRIPPING DEVICES
A variety of devices are available that are intended to improve grip while powerlifting. See below to learn more about a few of these products…
Heavy-Duty Lifting Wrist Strap
The heavy-duty lifting wrist strap is extra wide to provide increased stability to the wrist. The hook on this strap is made of heavy-duty steel and has a non-slip coating to prevent slipping while lifting. The hook and straps are adjustable to fit many sizes and preferences.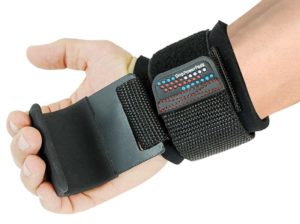 Gripping Aid
This gripping aid has a curved design around the fingers and uses velcro to secure fingers in place while grasping onto a device. This device is available in varying sizes and is machine washable.
Information and photos pulled from Active Hands. Gripping Aid.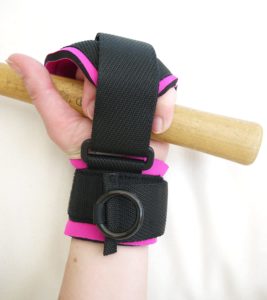 SKIN PROTECTION
Equipment is available that is designed to protect individuals' skin while powerlifting! These devices may include lap mats, ring rash guards, and more. See below to learn more…
Lap Mat
This lap mat is intended to protect athletes' legs during powerlifting while seated in a wheelchair. This lap mat provides an extra layer of protection while lifting and is available in two sizes. The top of the mat is made of a foam that is designed to absorb shock, and the bottom of the mat is designed for leg protection.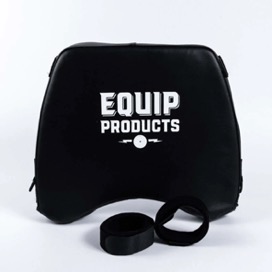 Ring Rash Guard
Ring rash guards are designed to protect an individual's shoulders, forearms, and hands while engaging in a ring workout. The guard is applied over the ring straps with a strong hook and loop system, and the athlete is able to work out without worry of skin shearing.
Information and photos in this section pulled from Equip Products. Lap Mat. Ring Rash Guard.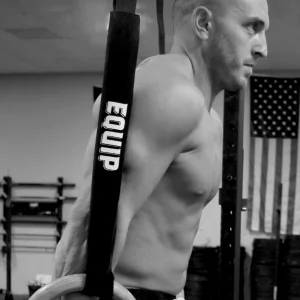 This resource is intended to be used for informational purposes only. The information contained does not reflect an endorsement of these products or companies by CAF.