Richard and Christine Mack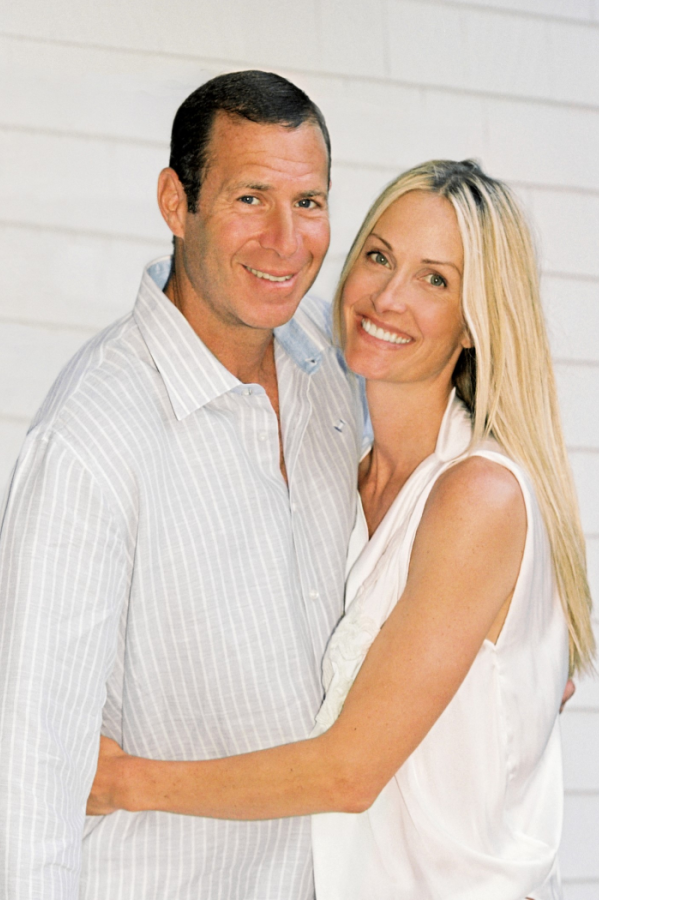 Richard and Christine Mack are excited to be this year's honorees at the 2022 Celebration of Heroes, Heart, and Hope. The Macks have been dedicated supporters of the Challenged Athletes Foundation since 2012, with a particular focus on expanding CAF's alpine skiing grants and programs. They are passionate about skiing and cycling and, together with their three sons, live an active lifestyle. Richard and Christine have been inspired by watching CAF athletes courageously take on challenges and improve their everyday lives through dedication, focus, and extraordinary grit. They wholeheartedly believe in CAF's mission and understand how transformative it is to empower people through sport.
The couple lives in New York, where Christine is active in the art world and is a respected board member of multiple charitable organizations and Richard is Co-founder and CEO of Mack Real Estate Group and a generous philanthropist. They are the proud parents of three sons.
Christine was born in the Philippines and grew up in Stockholm, Sweden before moving to New York at age 18 to attend Parsons School of Design where she earned a degree in Graphic Design and Advertising. After a stint at Hearst Publications as a graphic designer, she opened her own graphic design firm. There, she started doing pro bono work for both charities and cultural institutions. Christine also has certificates from Sotheby's in Art History, Contemporary Art, Art as a Global Business, and Curating. She started collecting art more than 10 years ago, has collaborated with many talented artists, and is now the co-founder of a curatorial platform, Space2Create, that re-imagines the traditional art exhibition by taking advantage of vacant retail and commercial space.
Christine serves on the board of numerous art museums and cultural institutions and is a respected member of New York City's art community. She is also passionate about children and has served as a board member of Child Mind Institute and the World Childhood Foundation and has co-chaired the Armory Gala as well as City Harvest. She is also involved with the Partnership for Drug-Free Kids as a parent advocate and by creating local workshops.
Richard is Co-Founder & Chief Executive Officer of Mack Real Estate Group and its affiliated credit business and serves on the Investment Committees for each. Prior to starting his own company, Richard was one of the initial employees of AREA Property Partners (founded in 1993 as Apollo Real Estate Advisors). At AREA, Richard was involved in the investment of billions of equity capital in debt and equity real estate transactions on behalf of AREA's primarily institutional investors. After serving as the Chief Executive Officer of AREA's North American business, he partnered with his father and brother to start Mack Real Estate Group in 2013 (and its affiliated credit firm the following year). Before joining AREA, Richard had been a member of the Real Estate Investment Banking Department at Shearson Lehman Hutton.
Richard earned a B.S. in Economics from the Wharton School at the University of Pennsylvania and a J.D. from the Columbia University School of Law. He currently serves on the Wharton School of Business Board of Advisors and previously served on the school's Undergraduate Advisory Board. Additionally, Richard created and co-teaches a course on Real Estate Disruption at Wharton. He also believes in supporting organizations focused on kids, community, and alleviating poverty. Richard is on the Board of Trustees of both the Randall's Island Sports Foundation and the Child Mind Institute, and on the Board of Directors of the 92nd Street Y. He is president emeritus of the HES Community Center, and a member of the Robin Hood Foundation's Housing & Homelessness Committee. He has recently been elected Chairman of the Board of the Met Council, which is America's largest Jewish charity dedicated to serving those in need.