Pushing Past Limits from Italy to San Diego
Italian citizen, model and passionate handcyclist, Roxana Dobrica, spent three months training and living life to the fullest in San Diego; making a huge imprint on the CAF community in her short time here. Roxana shared more about her story and time in California in this impactful narrative: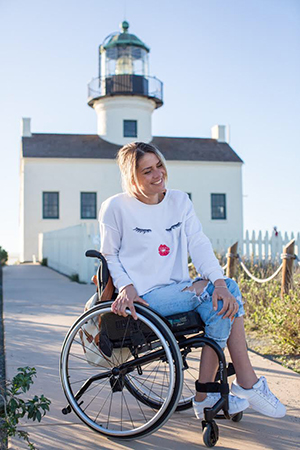 My name is Roxana Dobrica and I'm from Romania. Over eight years ago, I moved to Italy to build a better future, but just after two weeks of being there, I was involved in a traumatic car accident. I immediately became paralyzed from the waist down. I laid in an Italian hospital for days, weeks and months. The accident completely changed my life.
I suffered a lot for many years. I spent seven years not accepting that I was in a wheelchair and hoping for a miracle every day. I didn't accept the people around me with disabilities because I didn't want to see myself as a person with a disability. I spent seven years not living, tortured because my mind would not move past this barrier.
About a year ago, I finally got to the point where I couldn't stand myself and my current situation anymore; always staying in the house and relying on other people to help me. I decided to take my life into my own hands and find a sense of purpose.
I asked to be hospitalized again, but this time, it was different. This time I opened my eyes to a new life and new world. I became friends with many others who share a similar disability, and saw other people with even more serious disabilities living an active lifestyle. I met a group of handcyclists and they are responsible for opening my universe to this great sport and showing me what it means to live. They took me onto their team with open arms – "Active Sport Brescia, It".
I competed in several competitions last year with my handcycling team. We participated in all stages of the Tour of Italy and with great joy, I can say that I won in my category and got to the podium my first year in the sports world.
Around this same time, I also became a model and part of team "Iulia Barton Inclusive Agency", attending Milano Fashion Week with many important designers.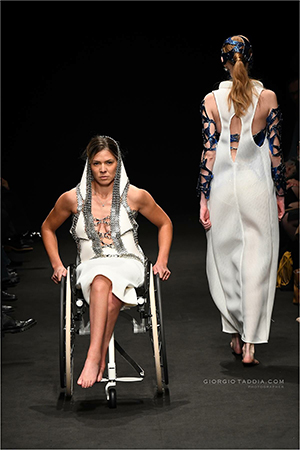 San Diego is a place I have longed to visit for many years. I decided this year would be a good time to train in a warm place during Italy's winter. So, I combined practical with pleasure and started looking for a three-month long accommodation. In my research through social media, I found CAF's Instagram and also Bicycle Mobile Works.
I messaged Jared Willye from Bicycle Mobile Works and asked if he knew of any places to rent a room. He was a part of the CAF and Team Chase family. He put me in touch with Brian Enge, CAF supporter and MDC rider, and that got the ball rolling on my San Diego adventure.
Brian and the Enge family not only accepted me into their home free of charge, they gave me a place in their family. They treated me like I was one of them, made me feel safe and welcomed, helped me integrate, and understand the rules of life in California.
Brian put me in touch with CAF and Laura Stein as soon as I arrived. I made fast friends through this great foundation. CAF invited me to all of the events that followed, connected me with more people and I managed to become a part of the CAF family.
David Lee helped me train and accompanied me along my rides on coast highway. I learned the way and enjoyed some great workouts alongside the ocean. I miss it already; the smell of the ocean feeds my strength to pedal. Steven Peace was another friend I made, challenging me to ride big hills like Torrey Pines. I trained hard and pushed through my limits again.
All of this training prepared me to finish my first century ride – the Tour de Palm Springs – alongside Lance Weir and Team Chase. They are all such good people, encouraging me and staying with me through the finish line. I dream of one day coming back to complete CAF's Million Dollar Challenge.
I met the most amazing people in Southern California. They all made me feel at home, loved and like I was one of them. The ocean, the weather, the flavors and spices they use in American cuisine were all magical. I like how they drive there – everyone is relaxed even when the traffic on the streets of California is horrible.
For a person with a disability, living in California is ideal. Everything was 100% wheelchair accessible. I visited many places from LA to San Diego and nothing was out of reach.
I am back in Italy now and feel fortunate to be part of a pretty big team. We go to races together, discuss important issues and go to the hospital once a week to meet recently injured individuals and show them everything they can do in a wheelchair. We show them, if they desire, that the podium can belong to them. We go to schools and talk about bicycle safety and respond to children's questions about disabilities.
We aren't just athletes, we are humans and our duty is to help those in need.
I go back to Romania often to visit my son who lives there with his father. Unfortunately, it is very difficult for me to live in Romania as the state does not help me and I cannot build a future there in my native country. To reach my goal and build a future, I have to make sacrifices, and my greatest sacrifice is being away from my son. However, I am grateful to be in a good relationship with my son's father and they are both doing very well.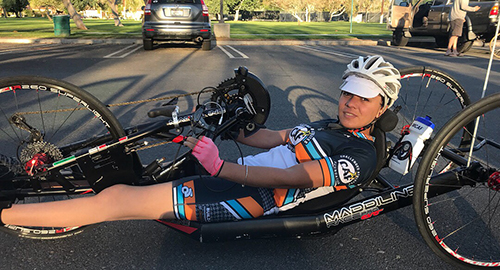 My goal athletically is to compete in the Tokyo Paralympic Games in 2020. I know there is not enough time to train and reach the premier athletes who are very strong, but I am stubborn and won't give up the chance. I want to get there and fight for it.