Adaptive Equipment for Skiing
Adaptive Equipment for Skiing
The range of equipment for skiing includes various types of skis, outriggers, leg supports, and other accessories. Scroll below to learn more…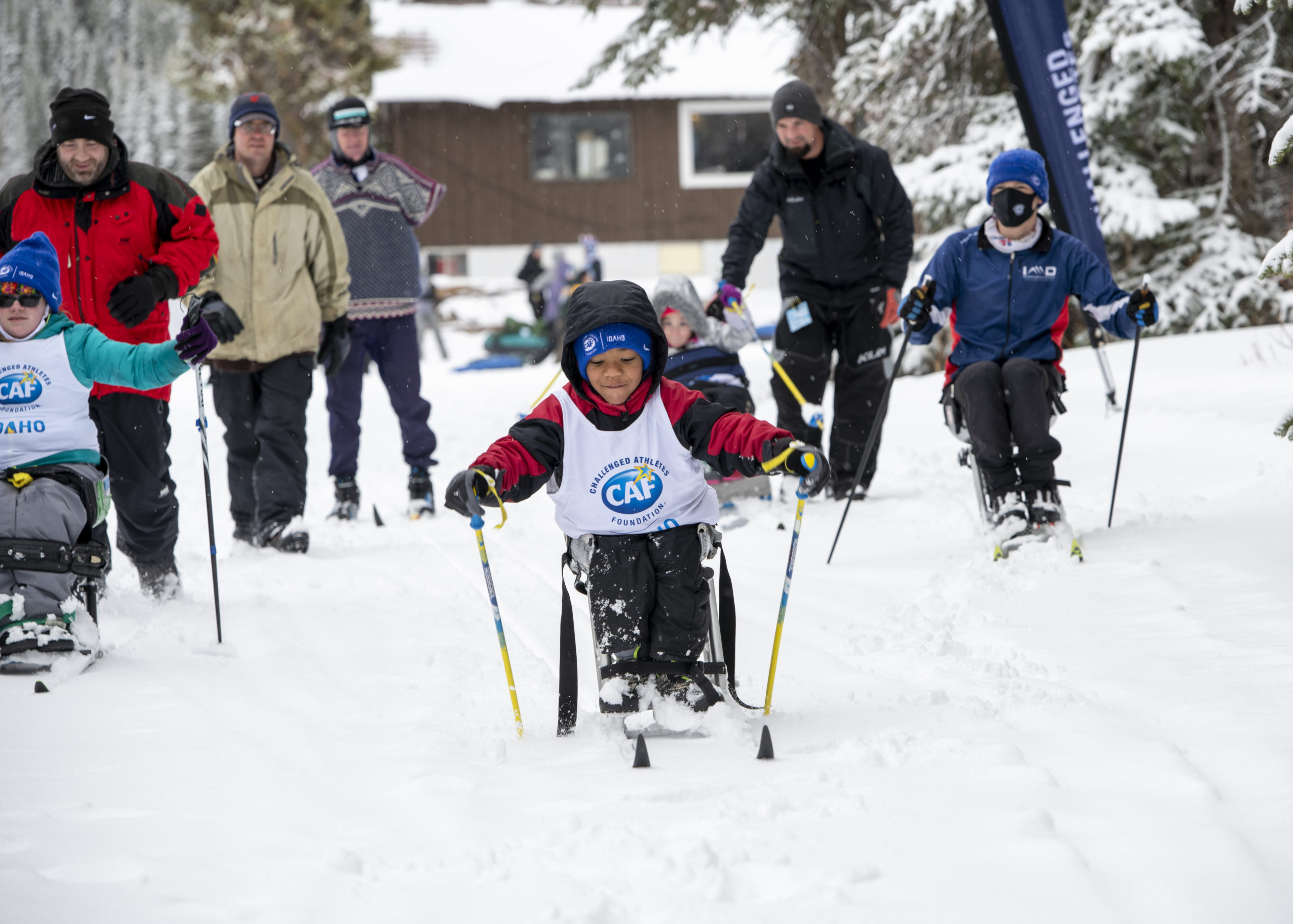 SKIS
Many types of skis are available to suit a wide range of individual abilities and preferences, such as mono-skis, tandem skis, and tri-skis. Scroll below to see just a few examples of each type of ski…
Mono-Ski
Mono-skis have one wider ski as the platform, with a molded seat on top for the rider. The mono-ski shown in this image has adjustable straps and padding for increased comfort, and the low-set seat provides ease with turning while skiing. Outriggers are used to steer and balance while skiing.
Information and photo pulled from Tessier. Mono-Ski.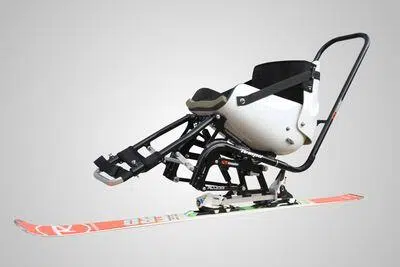 Tandem Ski
Tandem skis are designed for two people to ride together. The tandem ski shown in this image has a seat in front for a rider, and a spot for the second rider to stand and steer the ski from the back.
Information and photo pulled from Medical Expo. Tandem Ski.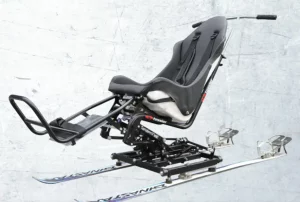 Tri-Ski
Tri-skis have three skis on the platform, with one ski in front that is connected to handlebars, and the other two skis in the back where the rider stands. The tri-ski shown in this image has a seat for the rider to sit on while skiing and can be stopped by turning the handlebars and leaning to one side. Use of tri-skis is helpful for individuals with decreased balance and coordination, as they have a wider base of support and are easier to steer.
Information and photo pulled from Adaptive Skiing. Tri-Skis.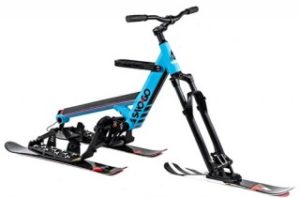 OUTRIGGERS
Outriggers are available to increase balance and control while skiing. A variety of outriggers are available depending on the type of ski that is being used, and available for seated or standing positions. Keep scrolling to learn more.
Outrigger
A variety of outrigger skis are available to suit a wide range of preferences and the ski system being used. This outrigger shown is intended for use in a standing position; however, other outriggers are available and designed to be used in a seated position. Many outriggers have a velcro attachment around the arms for increased control while holding the skis and a larger base to provide increased stability. These are made of a lightweight material and assist with balance, turns, stops, and navigating ski lifts.
Information and photo pulled from Adaptive Skiing. Outrigger.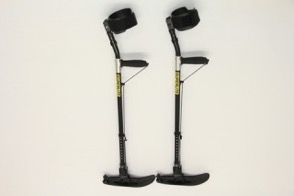 TRANSPORTATION
Devices are available and intended to provide ease to an individual while navigating the snowy terrain with their skis. See below to learn about a few of these available devices…
Track System
This device is an attachment for a wheelchair and is designed to withstand snow covered terrain. This device can be customized to fit any wheelchair and is battery powered.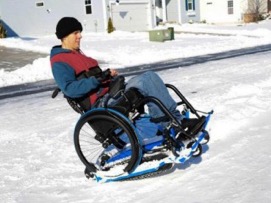 Wheel Blades
Wheel blades attach to the front-wheels on a wheelchair to provide ease with mobility on snow and ice.
Information and photos in this section pulled from Adaptive Skiing. Track System. Wheel Blades.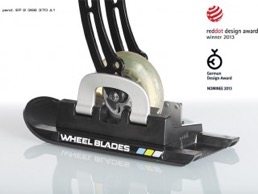 ACCESSORIES
Additional products are available to enhance the skiing experience through providing increased safety, external stability, leg protection, etc. See below to learn more about a few of the additional products for skiing…
Skull Cap
Skull caps are available to provide additional padding underneath the helmet to protect the skier's head from potential forces or impacts while skiing.
Information and photo pulled from Adaptive Skiing. Skull Cap.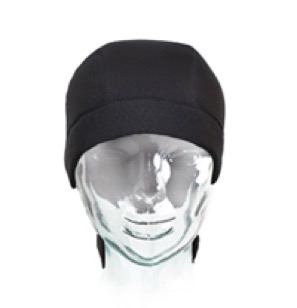 Leg Cover
Leg covers provide leg protection from cold elements, such as wind and snow, while skiing. Leg covers aid with temperature control, keeping legs warmer in the cooler elements. The leg cover shown in this image is intended to be worn if skiing while seated.
Information and photo pulled from Adaptive Skiing. Leg Cover.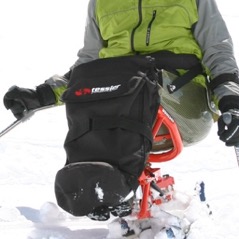 Knee Support Orthosis
Knee supports are available to provide increased stability while skiing. This device uses a spring recoil system to take 1/3 of the pressure off the knees by helping to keep the legs extended. Use of knee support is beneficial for those who would like to have additional stability while skiing.
Information and photo pulled from Exoskeleton Report. Knee Support Orthosis.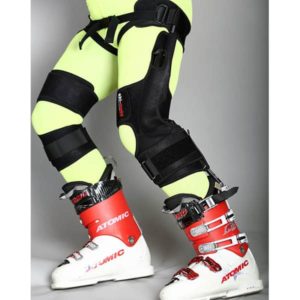 This resource is intended to be used for informational purposes only. The information contained does not reflect an endorsement of these products or companies by CAF.