Adaptive Equipment for Surfing
Adaptive Equipment for Surfing
The range of equipment for surfing may include various types of surfboards, transportation devices, custom handles, and accessories. Scroll below to learn more…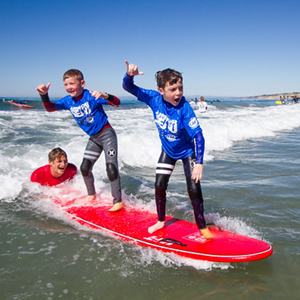 SURF BOARDS
A few types of surfboards are available, which include adaptive boards, tandem boards, and wake ski boards. See below to learn more.
Adaptive Surfboard
This adaptive surfboard has a harness that can bond to the board and has soft material on top of the board to align the body properly for ease with gliding during rowing and surfing. This board can be ridden by individuals with varying functional abilities.
Information and photos pulled from Velto Surf. Adaptive Surfboard.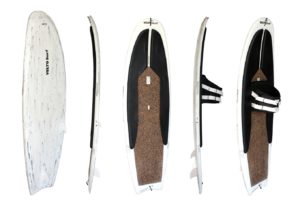 Tandem Surfboard
Tandem surfboards are intended for two people to surf together. These boards have straps and grip on them to provide the riders with increased stability and control while surfing.
Information and photos pulled from Tandem Surf. Tandem Surfboard.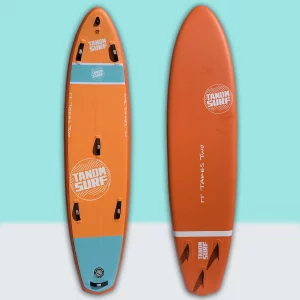 Waveski Board
The waveski board has a seat on top for the rider to sit in while riding waves and can be customized to suit an individual's preferences. The seat has a seat belt and there are foot straps to help the rider remain in place. The rider can either use a paddle or their hands to help propel and steer themselves in the water.
Information and photos pulled from Island Waveskis. Waveski Board.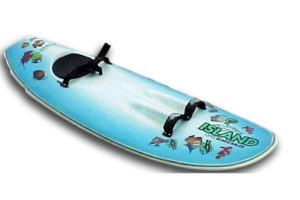 TRANSPORTATION
There are a few options for surf straps, which are intended to help an individual transport their surfboard with ease. See a few of these options below…
Shoulder Sling Strap
This shoulder sling strap is easy to apply and remove from the surfboard and is adjustable in length to fit an individual's preference. The shoulder strap is padded for comfort of the shoulder.
Information and photos pulled from Flyers Online. Shoulder Sling Strap.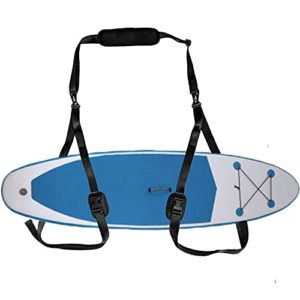 Back Strap
This back strap provides an alternative method for transportation of a surfboard. The straps are simply adjusted to fit snugly around the surfboard, and a quick release clip secures around the individual's chest while carrying the board.
Information and photos pulled from Coast Water Sports. Back Strap.
Surfboard Cart
Surfboard carts are available and intended to provide ease with carrying a surfboard down the beach. There are a few types of surfboard cart products available to purchase. This surfboard cart has wide wheels that can withstand the sandy surfaces, and a handlebar to pull the cart down the beach more easily.
Information and photos pulled from Glampin Life. Surfboard Cart.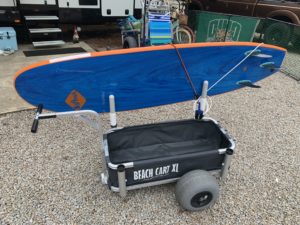 ACCESSORIES
Further products are available for athletes to use while surfing. These include a surfboard leash, helmet, booties, and leg straps. See below to learn more about these products…
Surfboard Leash
A variety of surfboard leash products are available and intended to keep the surfboard close to the rider in case the surfer falls off of the board. The surfboard leash is worn around the rider's ankle with a velcro attachment, while the other end of the leash is connected to the surfboard. Use of a surfboard leash keeps the surfer safer by remaining near the board and helps to protect other nearby surfers from getting hit by the board.
Information and photos pulled from Board N' Paddle. Surfboard Leash.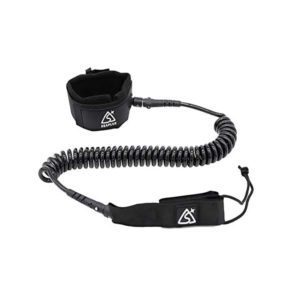 Helmet
Many helmets are available to wear while surfing. Helmets provide head protection while on the water from potential impacts or forces.
Information and photos pulled from Gath. Helmet.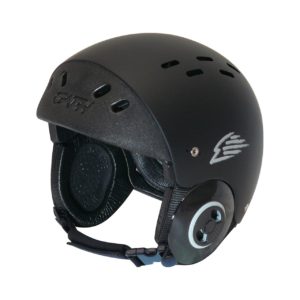 Booties
Surf booties are worn by some individuals and are intended to help with temperature control of their feet. Wearing booties provides skin protection in case the surfer runs into some rocks or tough terrain.
Information and photos pulled from Billabong. Booties.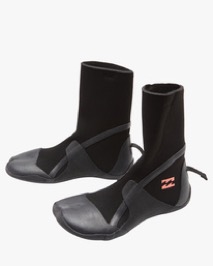 Leg Straps
Leg straps are intended to be worn by individuals who are remaining prone or in a seated position while on a surfboard. These straps are typically attached with velcro straps. Leg straps help to hold the rider's legs together and keep them on the board while surfing.
Information and photos pulled from Top Kayaker. Leg Straps.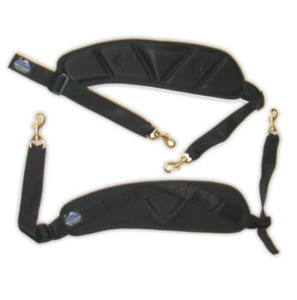 This resource is intended to be used for informational purposes only. The information contained does not reflect an endorsement of these products or companies by CAF.