Tim Mantoani: CAF Storyteller…
Written by: Scott Tinley
It's a glossy fall afternoon in La Jolla and the verdant lawn of La Jolla Cove is alive. Backlit tourists stroll the perimeter and ponder dolphins. "Did you see one? Or was it a shark? Geez, where was your camera?"
There are active booths lining the grass rife with product and ideas. There are athletes, some missing limbs but not much else. There is rehabilitation in the air.  It's a big event, fer chrissakes. Let's party. But inside a small cliff-side annex where bridge and elderly scrabble is practiced most days, sits a very non-descript man, a quiet, mid 40ish cat, balding and behind a camera. He is focused on the subjects who are the subject of the event. Tim Mantoani, the acclaimed and awarded photographer is doing what he does best—documenting the human condition.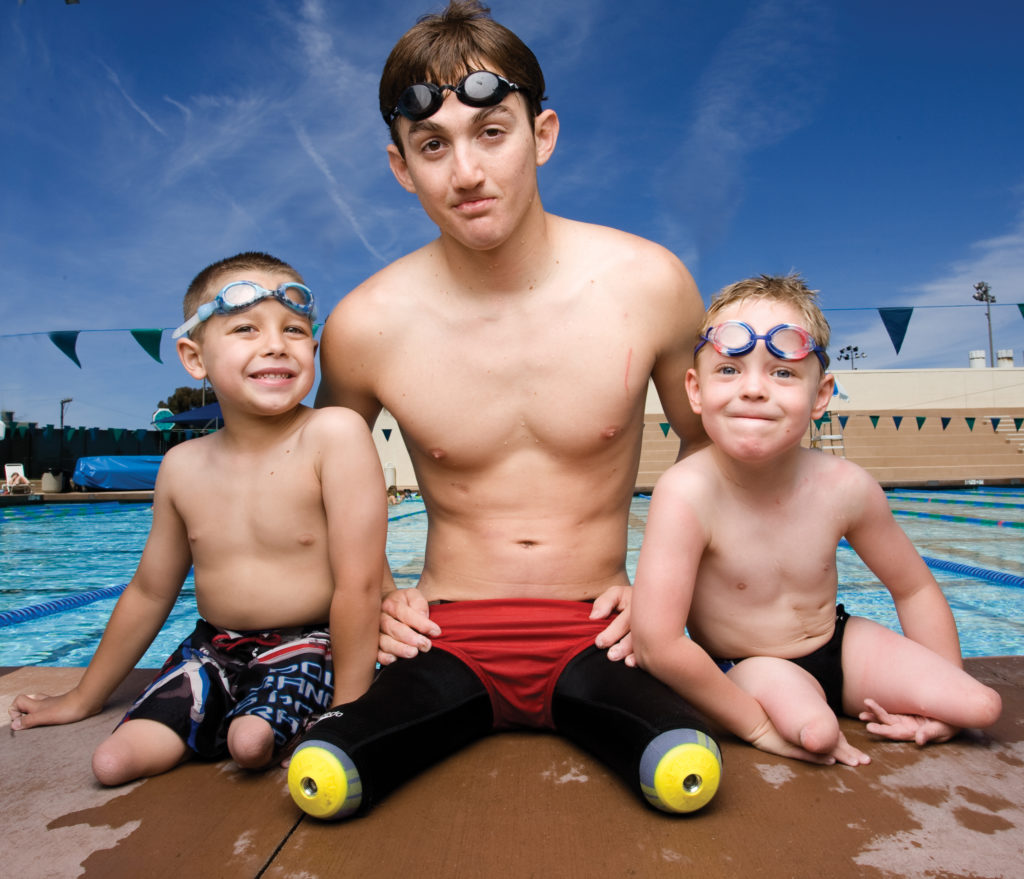 Mantoani, who when interviewed about a photo-essay he was producing noted, "what I like about this project is that it's not perfect," is taking pictures of broken people; athletes sans limbs, wheelchair-bound, blind, imperfect. But in this photographer's eye—immutable. For Mantoani, the opportunity to photograph the stars of the Challenged Athletes Foundation's annual San Diego Triathlon Challenge is not a professional gig but an artist's gift.
Outside on the buzzing grass, athletes trickle across the finish line and some, by chance or opportunity, find their way into the photographer's makeshift studio to have their accomplishment documented in forever digital format. Some know the Great Oz behind the curtain, some don't. But each athlete is gifted the feeling from this artist that their performance mattered. And for that, they don't ask about publication. The award of recognition is all that matters.
Tim Mantoani, the sought-after photographer to sports celebs will tell young armless and legless kids that their picture is fantastic, that they didn't so much as inspire the crowd as produce its essential quality. And he will be correct because Mantoani is not taking pictures but transferring feelings. He will say it's easy, "I feel something for this group. So what's so hard about pointing the camera and pushing a button?"
One physically challenged athlete–a kid who grew up having his picture taken every year in that small cottage by the Cove—noted that he wanted to see what Tim saw from behind the lens,
"because Mr. Tim doesn't see me as any different than the famous stars he takes pictures of," and then adds, "and maybe I'm just as handsome as they are."
For nearly fifteen years, photographer Tim Mantoani donated his art to CAF, chronicling the visual ethos upon which CAF grew and now stands. Tim lost his decade-long battle with cancer on a Friday, the 8th of October, 2016. He leaves behind a wife, a brother, a son, and thousands of images, some taken, most given, of physically gifted and physically challenged athletes. The later, he was to claim, mattered most in his career and in his life.
ST