Premier Grant Partner: High Performance Mobility – Top End
Background
Chris Peterson first showed interest in sport wheelchairs while working for a provider in New York that sold home care products and wheelchairs. His curiosity led him to become the company's technical expert in light-weight, everyday wheelchairs. Chris started attending wheelchair-sporting events all over the world.
Peterson moved to Florida in 1985 to work for a small company where he could create his own sport chairs. He started Top End the next year with his partner George Murray, who was one of the best wheelchair racing athletes of all time, designing and manufacturing racing wheelchairs. By 1988, Top End added custom everyday and basketball chairs to its product line. These were followed shortly by rugby chairs.
In 1990, Peterson wanted to help his customers stay fit and was inspired by his own experience as a competitive cyclist, so he designed and began to manufacture handcycles. Then, in 1992, Peterson produced the first sport specific tennis chair, earning multiple patents with his pioneering three-wheel design. Since then, many of the product innovations and enhancements come from athlete and consumer input which Peterson incorporated into functional designs. This consumer-driven product enhancement put Top End on top and has kept it there since.
Mary Carol Peterson joined Top End in 1992 to market these great products and many of her "action" photos are featured on our site. In 1993, Top End became a part of Invacare Corporation of Elyria, OH, the world's leading manufacturer and distributor of medical products which promote recovery and active lifestyles for people requiring home and other non-acute health care. This partnership helped fill a niche for Invacare by giving them a sports and recreation product line and engineering collaboration.
This joint effort between Invacare's Custom Manual and Top End design engineers has contributed to the success of both Top End and Invacare Custom Manual everyday chairs. Invacare's support with product testing, engineering, documentation and production has helped Top End to manufacture the best possible products in the world.
Disclaimer: Invacare Top End sports wheelchairs are intended for sports activities only on courts or designated playing surfaces and not intended for a daily use wheelchair or treatment of any medical condition but for recreational purposes only. Any other use is prohibited.
Meet the Team
Invacare Top End leads with first-hand experience. Three-time ParalympianPaul Schulte helps lead our great team with the same passion and drive as he does on the basketball court using his design engineer experience to deliver products that will help you perform at your best and achieve your goals. Dan Showman is in charge of our manufacturing facilitywith over 15 years of experienceproducing complex rehab products at Invacare and is dedicated to manufacturing your chair or handcycle absolutely perfect for you. Katrina Piparo and our exceptional customer service team will go the extra mile to help you, no matter what. Our InvacareTop End employees are eager to make a personal connection in order to make your custom chair a reality. We couldn't do it without our experienced fabrication and welding, upholstery and assembly teams
Facility
Invacare Top End's production facility first opened in 1992. Since then, the Pinellas Park, Florida facility has expanded toaccommodateincreased production and staff. Their customer service department, engineers, fabrication and production staff, quality assurance and order specialists work together under one roof. The result is unmatched attention to detail and customization at every level.
While the facility is not open to the public, you're welcome to make an appointment to see their showroom. Be sure to bring assistance if you need help transferring into handcycles or race chairs.
Behind the scenes, the process begins when an order is submitted. The review team checks to make sure all orders are complete and that customizations are compatible. The order management system tracks your product from start to finish, ensuring that every customization and feature matches your exact specifications.
What to expect in a finished product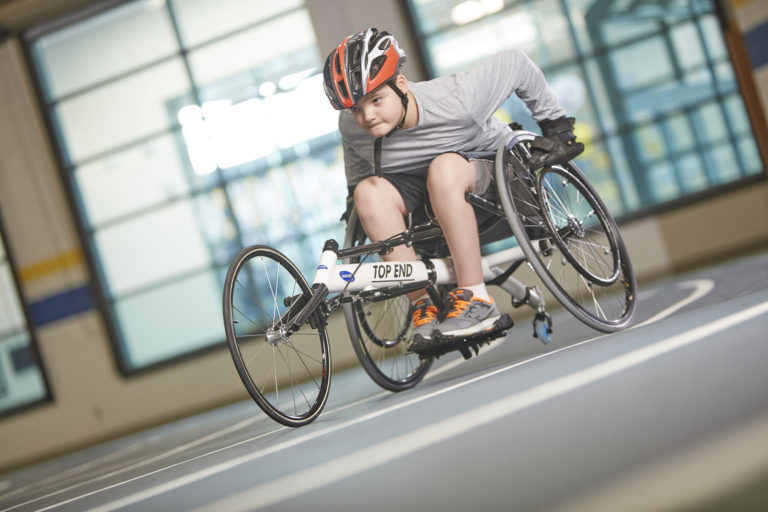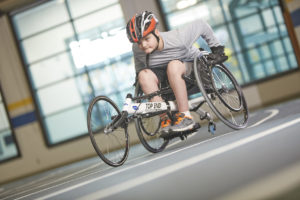 An unbelievable amount of craftsmanship goes into the production of each chair and handcycle at Invacare Top End. Each member of the welding team specializes in specific products, from racing cycles to everyday wheelchairs.
The team works together from start to finish to create products built to perform to specific needs. The powder coat paint is applied and then cured using a massive oven. Even the upholstery and wheels are built in-house because each product is custom built and uses unique wheel and tire combinations. During the QA process, if a wheelchair does not meet exact specifications, it never leaves the production floor. It's completely remade. That is the commitment Invacare makes to its clients.
Contact Information
Top End Wheelchairs
4501 63rd Cir N, Pinellas Park, FL 33781
Tel 800.532.8677
[email protected]
https://www.rugbychairs.com/
http://topend.wpengine.com/contact/