Adaptive Equipment for Track&Field
Adaptive Equipment for Track & Field
The range of equipment for running includes various types of racing chairs, frame runners, and more. Scroll below to learn more…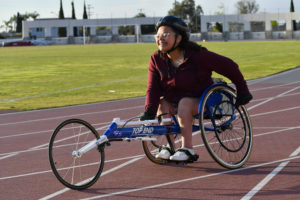 RACING CHAIRS
Racing chairs are highly customizable and designed with an aerodynamic frame to reach faster speeds. Racing chairs have two wheels on each side of the chair, and one wheel on the front to achieve these higher speeds. There are three main frame designs for racing chairs, which include an I-frame, U-frame, and V-frame, which determine the seated position of the athlete. These seated positions include a feet-forward position, kneeling position, or for the individual to race while using an amputee seat. See below to learn about the different types of racing chairs…
V-Frame Racing Wheelchair
V-frame racing chairs have a footrest for individuals sitting in a feet forward position and allows for an individual to sit in a semi-kneeling position. A V-frame racing chair is generally more challenging to get in and out of than other frame styles. This racing chair can be used in a kneeling or feet-forward position and is designed with an aerodynamic frame to obtain higher speeds.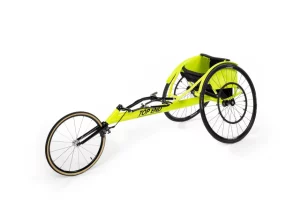 U-Frame Racing Wheelchair
U-frames racing chairs are suitable for individuals who can fully bend their knees and are not uncomfortable in a kneeling position. This racing wheelchair is available and intended for athletes who race in a kneeling position or use an amputee seat. The knee plate is built of aluminum to provide increased rigidity while riding.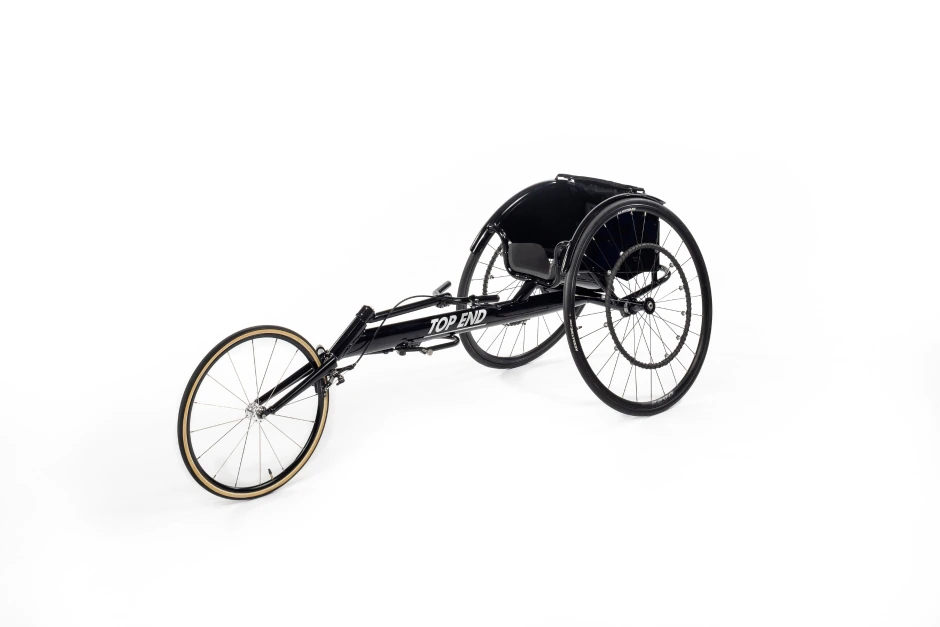 I-Frame Racing Wheelchair
I-frame racing chairs are designed for double amputees or are combined with a footplate for athletes whose legs don't fit into a V frame racing chair. This racing chair is designed with a higher set seat to provide ease with transfers on and off the chair and is recommended for individuals who are beginners with racing and can only be used in a feet forward position. This chair is highly customizable to best fit an individual's measurements and preferences.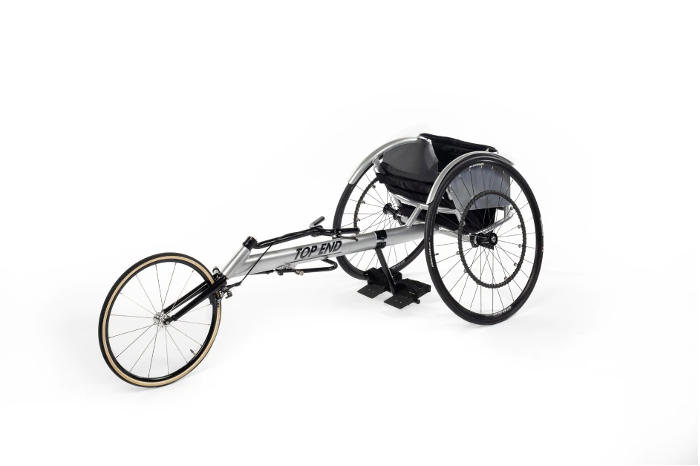 Adjustable Racing Chair
Adjustable racing chairs are another type of available racing chair. This racing chair is adjustable to accommodate for multiple riders, having an adjustable back angle, seat depth, and foot plate.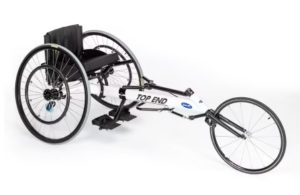 FRAME RUNNERS
Frame runners provide increased stability to the athlete while running and can also be used by individuals while walking. There are a few options of frame runners based upon the type of terrain it will be used on, being able to manage paved surfaces and/or outdoor terrain. See below to learn more.
Frame Runner
Frame runners are used by individuals during racing, consisting of a three wheeled frame, a seat, and body support. The frame runner shown in this image is adaptable to function on a track, outdoor terrain, or icy conditions, by simply changing out the tires for outdoor terrain or adding "frame skaters" to navigate icy areas. A battery powered option is available to assist with steering if preferred.
Information and photos pulled from Wisp. Frame Runner.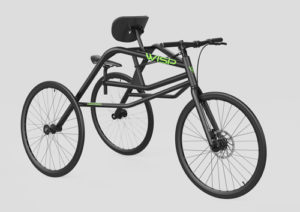 Cross Runner
This frame runner is designed for use in outdoor terrain, whether on trails or on a paved street. The frame runner shown in this image is easily separated and compact enough for travel. Optional wider tires are available if the rider will be on bumpy trails, and this frame runner is customizable to best suit the rider.
Information and photos pulled from By Connie Hanson. Cross Runner.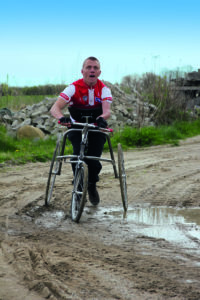 THROWING FRAMES
Throwing frames are used by athletes during seated throws. These frames can't be higher than 75 centimeters and may have a backrest if desired. A cushion may be utilized on the backrest with a max depth of 5 cm. See below to learn more about seated frames.
Seated Frame
The seated frame shown in this image falls within the size requirements for this equipment and displays the padding on the backrest. This frame has a holding bar for increased stability of the athlete during play. A variety of straps may be used to secure the athlete in the chair, which include tie down straps, ratchet straps, and velcro straps. A foot bar is attached to this seated frame for the athlete to have increased stability and control during play. Ratchet straps and stakes are used to secure the entire seated frame to the ground.
Information and photo pulled from Challenged Athletes Foundation. Seated Frame.
ACCESSORIES
Accessories are available and used by athletes while racing! Some accessories used include helmets, protective eyewear, racing gloves, and klister. See below to learn more about these products…
Racing Helmet
Racing helmets are worn by athletes for impact protection while racing. Racing helmets are lightweight and have an aerodynamic design optimal for racing. The helmet shown in this image has vents to promote cooling while riding.
Information and photos pulled from Smith. Racing Helmet.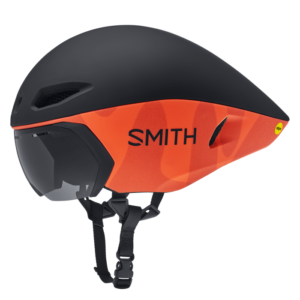 Protective Eyewear
Some athletes opt to utilize protective eyewear while racing. Many protective eyewear products are available: However, the glasses shown in this image are slip resistant, impact resistant, scratch resistant, and have a removable foam seal for wind protection.
Information and photos pulled from CA Glasses. Protective Eyewear.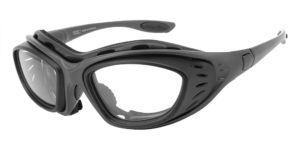 Racing Gloves
A variety of racing gloves are available for use during wheelchair racing. Racing gloves have a purpose to improve grip and generate more power with each stroke. The glove shown in this image is available in multiple sizes to fit the users individualized hand measurements.
Information and photos pulled from How I Roll Sports. Racing Gloves.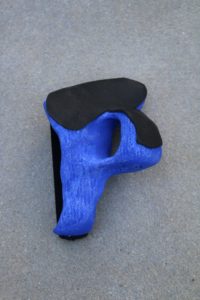 Klister
Klister is designed for elite wheelchair racing athletes, providing improved grip in cold or warm weather. This product consists of a gel-like consistency, which is thicker for warmer conditions, with another version that is a thinner consistency for colder conditions. This is simply applied to the racing gloves and wheelchair rim for use.
Information and photos pulled from Sport Aid. Klister.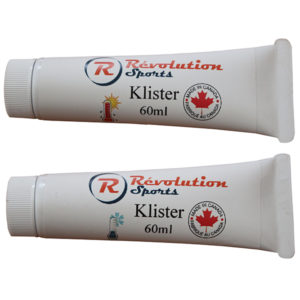 This resource is intended to be used for informational purposes only. The information contained does not reflect an endorsement of these products or companies by CAF.