CAF Community Challenge – Week 9
Check Out The CAF Swag Bag!
Welcome to the 9th week of the CAF Community Challenge presented by Vega. Be sure to earn your highly coveted CAF swag bag by raising a minimum of $500 by October 18th. You have two more weeks to raise $250 per week, that's close to $36 per day! You've come so far, it's time to reach the virtual finish line with the pride of knowing you have truly changed lives. Also check out CAF's How to Raise $500 in 10 Days Tips.
CAF has moved close to 150,000 miles. We have 17 days remaining to hit our goal of 1,000,000! Keep pushing.
Congratulations to our top athletes in each category as of 10/1/2020:
DISTANCE:
#1 – Brandon Lyons – 2,153 miles
#2 – Jamie Maguire 1,922 miles
#3 – Joe Hamilton 1,937 miles
ELEVATION:
#1 – Jamie Maguire 144,347 feet
#2 – Steven Peace (USMES Trike) 113,694 feet
#3 – Seth Ferguson 98,983 feet
CONSISTENCY:
#1 – Dr. Bryon Solberg 189 activities
#2 – Sherrine Jones Hayward 136 activities
#3 – Barry Vince 129 activities
DEDICATION:
#1 – Barry Vince 178 hours 50 mins,
#2 – Francisco Poslethwaite Munoz 142 hours 51 minutes
#3 – Sherrine Jones-Hayward 142 hours 37 minutes
TOP TEAMS:
#1 – Wednesday Girlz Friends & Family 11,940 miles
#2 – Team Caffeine Green (MDC Ride Leaders) 7,455 miles
#3 – Team CAF San Diego Cycling Club 6,865 miles


Oct 4 – Ride for Challenged Athletes Foundation Strava Challenge
Join cyclists from across the country for the Ride for Challenged Athletes Foundation Strava Challenge, a two-week, 100-mile challenge. All participants who complete 100 miles of cycling and donate $10 or more are entered for the chance to win some amazing prizes!
What are you waiting for? It's easy to sign up!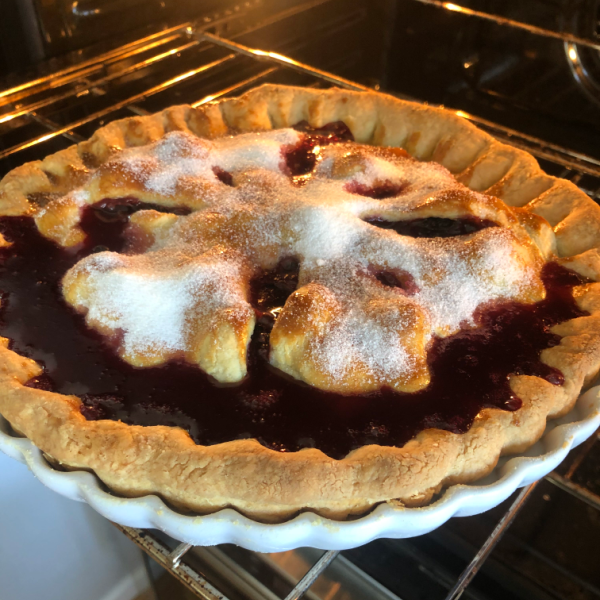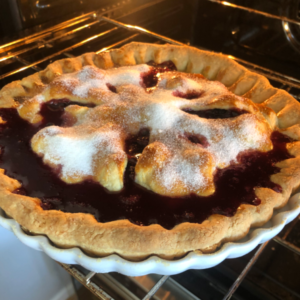 October 10 – Ride for Pie Day!
Cycling and Pie are perfect together! On October 10, we plan to ride as a community by logging our personal miles outside or indoors and finishing with pie! During a year with so few in-person events we want to try something new and give you a day to look forward to.
Let's celebrate CAF's commitment to adaptive cycling, the strength of our community, and our deep gratitude to J&L Pie Company, the generous sponsor of our Adaptive Cycling program.
Here's how it works:
1) Get out and ride anytime, anywhere
2) If you haven't already – make sure you've joined the CAF Strava Challenge to track your miles and be eligible for even more prizes
3) Finish your ride off at your favorite pie shop or at home with a piece of homemade pie
4) Share your ride on Strava and Social Media and tag #CAFCommunityChallenge and #RideforPie for a chance to win our photo contest
SHARE ON SOCIAL!
Don't forget to share your progress with friends and family on your social channels! Not only will you help motivate others and spread the word about CAF and the challenge, you'll also be entered to win fun prizes along the way!
This next week, as we head into Week 9, everyone who shares their progress by posting a photo on social media, tags us, and uses the hashtag #CAFCommunityChallenge will be entered to win a 1 lb bag of coffee from silver sponsor, Equator Coffee! The perfect pairing with pie after a nice long bike ride.
Check out our Virtual Goodie Bag to learn more about Equator Coffee and the amazing CAF Blend they have for sale right now. For every bag sold, $1 will be donated back to CAF.
Week 8 winners from this past week will be sent their special edition Power of Sport t-shirts from CAF supporter, Laura Siddell.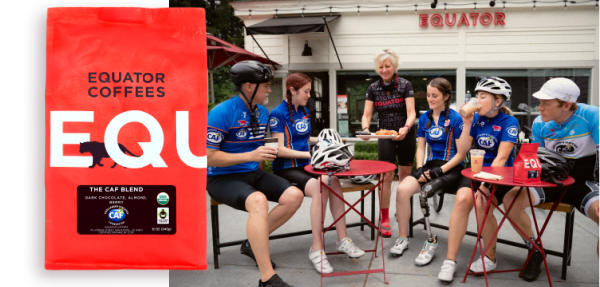 With just 17 days to reach CAF's incentive levels, keep pushing to hit your goal and earn your CAF swag!
CONGRATULATIONS to our top fundraising teams as of 10/1/2020
1. Team Tommy
2. IRONMAN-ish 140.6 with Team Whalen
3. Team Maguire
4. Team CAF Staff
5. Team Caffeine Green (MDC Ride Leaders)
CONGRATULATIONS to our VIP GOLD TEAM as of 10/01/2020
Tommy + Beth Knapp
Patrick O'Connell
Dick Lansing + Carleen Kreider
Jeffrey Essakow
Geof Garth
Bob Babbitt
John Elliott
Chris Renard
Jamie Maguire
Megan Maguire
Susie Maguire
Timothy Maguire
Douglas Kincart
Brian Enge
Ralph Robinson
Danny Gabriel
Elijah Taylor
Parker Olenick
John Payne
Kelly Ray
Nancy Reynolds
Don Ankeny
Doug Olson
Craig Blackwood
Tom Atwell
Donald Muller
Dean Roeper
Melinda Johnson
Cat Ellis
Mike Mogul
Barry Baker
Tom Smith
John Heuisler
Olivia Stone
Richard Wallace
Virginia Tinley
Rosalind Jarrett-Sepulveda
John Dempsey
Nancy Groot
Plant-Based Nutrition for Athletes
How you fuel can be the difference between a new personal best and a mediocre-at-best training session. It's the competitive advantage that takes your training to the next level.
That's the principle that Vega was founded on and is what drove us to create the Vega Sport® Nutrition System, a series of plant-based sport nutrition products designed to help you optimize every stage of your training.
Learn more about the importance of supporting your training with the right nutrition, and how Vega Sport® can help fuel your goals on the Vega blog.