The Best-Of, The Best Day in Tri
On October 22, 2017, over 200 challenged athletes and 600 able-bodied athletes took to La Jolla Cove with an energy that left a lasting imprint on every heart in the venue. Confidence, connection, and inclusion were on display from the Parade of Athletes until the final athlete crossed the finish line.
Countless moments strung serendipitously together to make the 2017 Aspen Medical Products San Diego Triathlon Challenge a life-changing weekend for all.
Here is a glimpse into the best-of, the Best Day in Tri.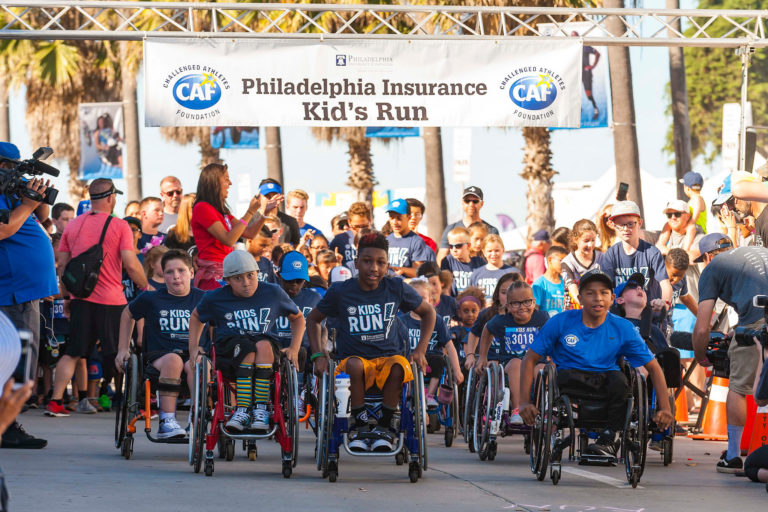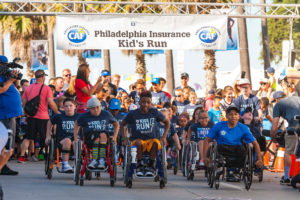 Event Recap
Over $2.7 million was raised by generous donors, fundraisers and sponsors to provide equipment, training, competition expenses and mentorship to people with physical challenges.
The YMCA of San Diego County Tour de Cove pumped endless "Tiki" energy into the crowd. Challenged athletes and enthusiastic instructors rode on stage to keep the momentum spinning for the crowd of 200 cycling fundraisers who rode as an individual or on a relay team for the 4.5-hour event.
Over 250 families and individuals participated in the Kaiser Thrive 5k walk. Four kids from the Grace family were the top children fundraisers and earned four passes to Disneyland on stage as a highlight of this event.
The YMCA of San Diego County hosted the Kids Stretch this year with a special guest appearance by the energetic Padres Friar.
The Philadelphia Insurance Kids Run is a can't miss part of the day that never disappoints for spectators and participants alike. Kids of every ability took on the course with fierce determination and were met with equal amounts of celebration and cheer.
While the swim was unfortunately cancelled due to a high surf advisory, the 44-mile bike and 10-mile run were conquered by pro-triathletes and everyday athletes, able bodied and challenged, everyone competing side by side on the difficult yet rewarding course.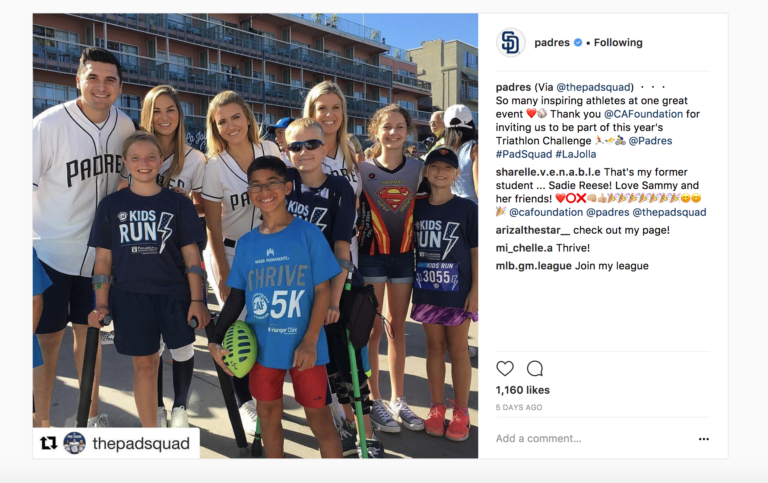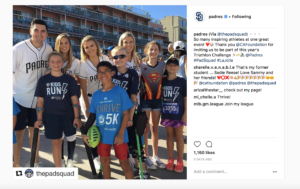 Generations
All ages and levels come from around the country to participate and connect as part of the CAF family. Young athletes invigorate experienced athletes with a fresh tenacity. Experienced athletes are first-hand role models to show the younger generation what's possible.
There was something for everyone this year, from the WCMX (wheelchair skating) clinic, to the surf clinic, wheelchair tennis clinic and all SDTC day-of events.
"Participating in SDTC always fills my heart with strength to fiercely face whatever life has to offer." "" Jami Goldman-Marseilles, first Double Amputee to finish a half marathon and full marathon, Cancer Survivor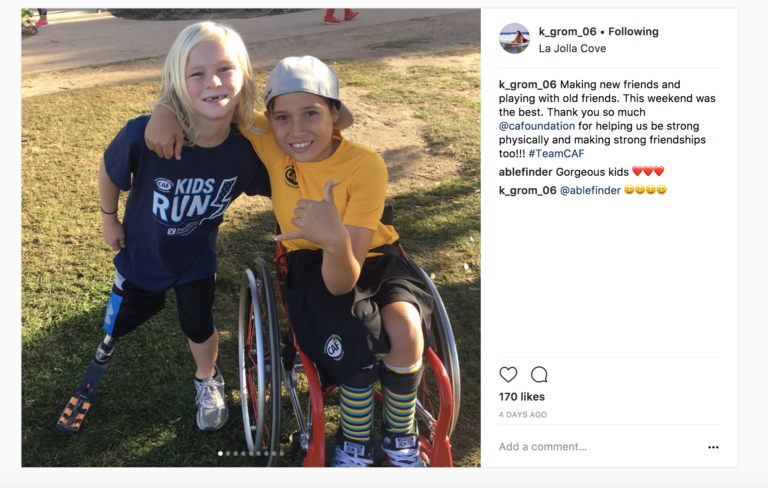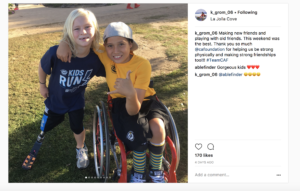 Teenage Connections
Four girls from around the country have grown into soul sisters; all sharing a likeness and connection after losing their leg to Osteosarcoma (bone cancer). Breezy Bochenek, Kelly Ray, Alex Henry, and the latest edition the group, Sam Bodger, have all formed an unbreakable bond.
"My CAF family has become one of the strongest support systems in my life, despite only seeing them a handful of times a year. The positive feelings I have after SDTC carry me through everyday challenges: with CAF, I know I am never alone. Over the past four and a half years, I've learned that challenges are simply opportunities for us prove our strength, worth, grit, and determination." "" Kelly Ray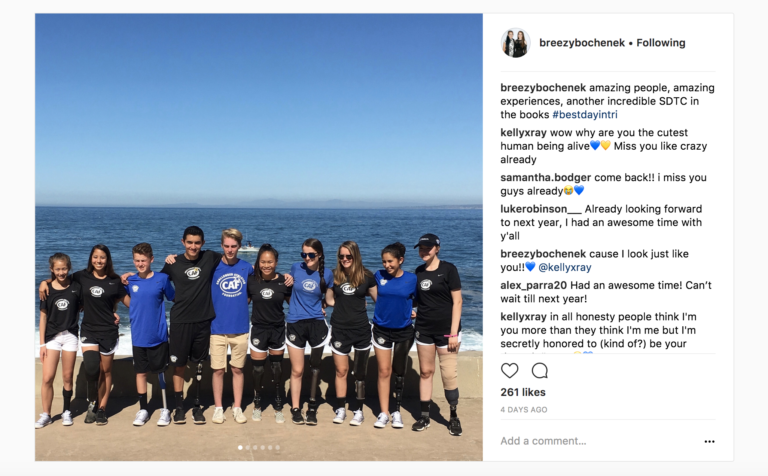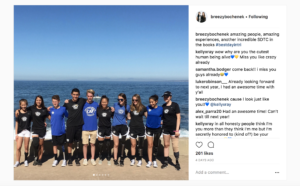 Family
Karl and his son Luke Robinson came to SDTC this year for the first time after being introduced to CAF in April at the Nike Wheelchair Basketball clinic. Karl and his two sons all have the same degenerative muscle disorder called Hereditary Spastic Paraplegia, and they all play competitive wheelchair basketball.
As a veteran, Karl has received grants from CAF's Operation Rebound in the past. Karl's SDTC experience was hard for him to put into words.
"The family element to our story both hurts and touches me. While the disease is really hard in many ways, we don't have to endure it alone and we get to share in the opportunities and doors that it opens together. My son was invited to attend SDTC, and he invited me to go along with him. As an adaptive athlete myself, it was a wonderful experience to attend both as a parent and as an athlete. I saw my son start some life-long friendships, build on existing friendships, and discover and explore new possibilities and new opportunities in adaptive athletics. At SDTC I was personally motivated to take a really hard look at what's next. The Million Dollar Challenge is on the short list!" "" Karl Robinson
Luke stoked out at the surf camp and tennis wheelchair clinic, fitting right into the teenage "rat pack" of kids who all hung out together and mentored the younger kids.
"The opportunity that CAF provided me in going to SDTC was much more than anything I could have asked for. I honestly wasn't sure what to expect coming into this event; being a wheelchair basketball player invited to a triathlon week. But trying wheelchair tennis, meeting athletes from all backgrounds, feeling a genuine sense of joy as I cheered my friends on in the running clinic, learning to swim through my challenges, and the overall support and energy at SDTC made this a one-of-a-kind experience that I will remember for a lifetime." "" Luke Robinson
Mentorship
CAF brought Kevin Breen – who recently lost his feet, hand and multiple fingers on the other hand due to a rare case of strep throat – and his family out from Michigan to join the running and mobility clinics, be a part of SDTC and meet others who have been through similar experiences.
Kevin was introduced to Mike Atherton, a triple amputee whose boating accident was just 18 months ago. Mike has been supported by CAF to quickly get back to his active lifestyle.
Mike's determination and commitment to running and being active has already helped Kevin on his journey. The two spent most of the day together at SDTC and have developed a fast friendship, connecting over the triumphs and challenges of their new normal.
Kevin is making an amazing recovery and is already taking steps towards an active lifestyle. He has even returned to his beloved water-sports on a wakeboard.
Kevin was granted $2,000 during a grant presentation at SDTC toward adaptive waterski equipment and training expenses.
Athlete Heroes
Access to the right equipment makes all the difference for an adaptive athlete. Nicole Ver Kuilen and her "Forrest Stump" team swam, cycled, and ran 1,500 miles from Seattle to San Diego, ending at SDTC to raise awareness about the equipment and insurance struggles that adaptive athlete's face.
Nicole accomplished a personal goal and also showed the world what's possible.
Nicole was blown away by her surprise and well-deserved grant for an Össur Running Foot. While Nicole is a hero to many people, she found inspiration of her own in CAF's community of support.
"In the 16 years I've been an amputee, I have never once raced against another athlete missing a limb. Today changed that. I was surrounded by people just like me! Not only that, but I was embraced by an entire community of people – both challenged athletes and able-bodied athletes – who CELEBRATED my difference and did not place any limits on what they thought I could accomplish." "" Nicole Ver Kuilen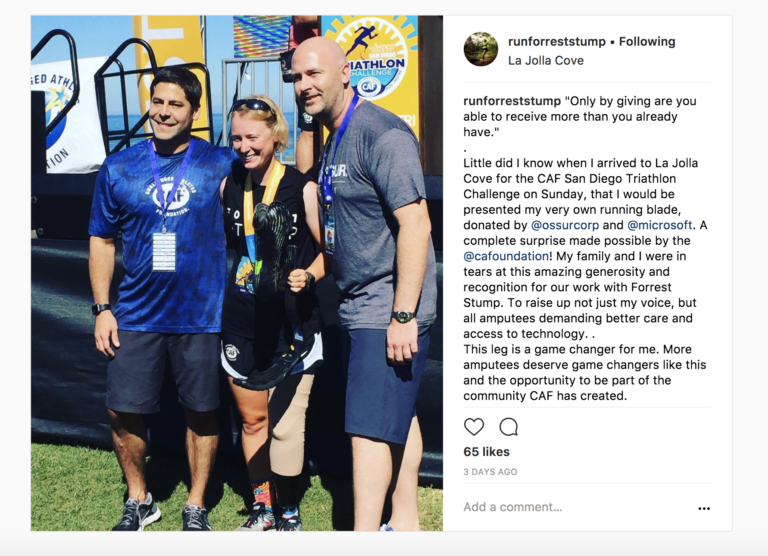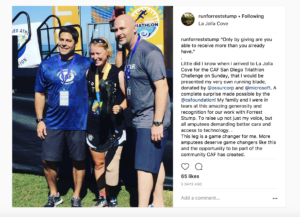 Nicole and Forrest Stump are already plotting their next big challenge; stay tuned for what's to come.
Early Support
A devastating injury or diagnosis becomes a story of resilience and hope when someone says "yes" early to the support and community that CAF provides.
One of the award winners over the weekend was Lance Weir. Lance is aformer Marine Corps Reservist and a c-5 quadriplegic who we honored asCAF'smost inspirational athlete for his commitment and success as a cyclist who rides on the back of a custom-built tandem hand-cycle. Lance shared that he wished he had said "yes" to opportunities sooner after his life-changing injury.
That's a common sentiment; "I wish I had found sports and an active lifestyle earlier on so that I could have avoided some of the darker times."
The mentorship and community are what makes CAF so special. But it takes a person saying "yes" early and allowing CAF to provide support that changes lives.
Anna Hackenberg is one of those individuals who is jumping on the active road to recovery. Just months after she was paralyzed by falling rocks during a walk on Torrey Pines Beach, Anna came to CAF's adaptive handcycling clinic where she fell in love with the sport.
And now seven months out from her accident, she was granted a surprise handcycle during the YMCA of San Diego County Tour De Cove stationary cycling marathon. This grant will help Anna build on her momentum toward recovery and an active lifestyle.
It's people like Anna and the 70+ kids and families that we acknowledge for saying yes to the support and community that CAF provides.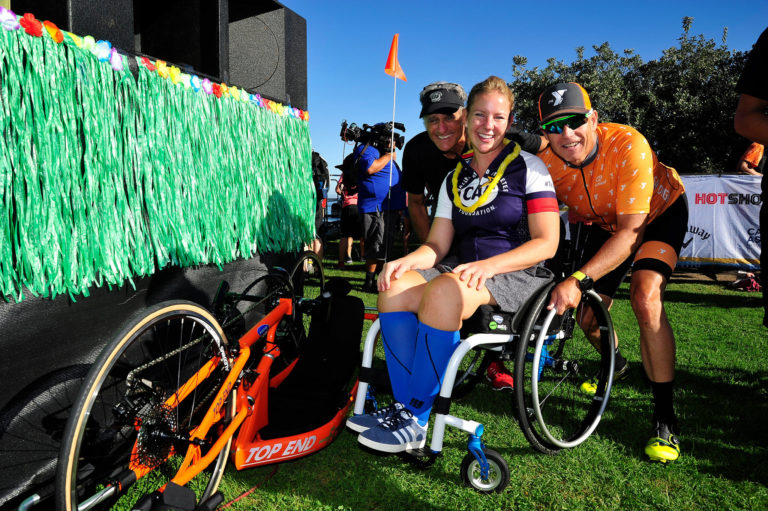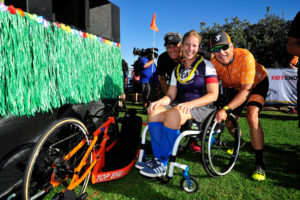 CAF's Mission
With the first-ever live broadcast, over 10,000 people from around the world tuned into the power of SDTC. The charming Willie Stewart and Sarah Reinertsen, who both have years of experience and success stories to share, interviewed several athletes including Samantha Bodger, a high school student who recently lost her leg to cancer.
In an emotional, surprise presentation, Sam was granted an Össur running foot to kick off SDTC morning.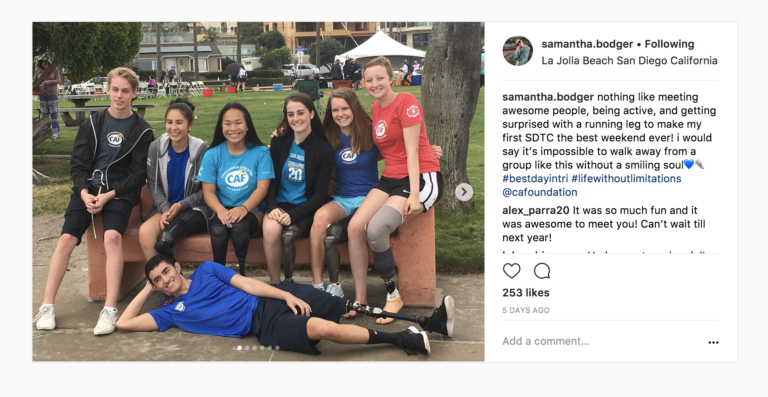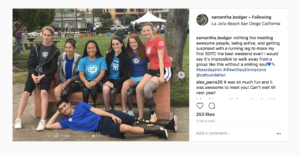 Sam is well on her way to returning to an active lifestyle. She's already getting back on the soccer field and into the dance studio.
---
Thank you to all of the athletes who allow CAF to change lives and inspire the next generation of adaptive athletes to do the same.
Thank you to the generous fundraisers, donors and sponsors who took on the challenge of raising significant funds to support CAF's mission.
Thank you to everyone for making this Best Day in Tri one of the best yet.
VIEW SDTC Photo Album
VIEW TDC Photo Album
WATCH SDTC Live Stream