From Idaho to Tokyo: Pathway to the Paralympics
The state once known solely for its potatoes, ghost towns, and Basque and Native American history is making its mark for a new reason these days: elite adaptive athleticism. Home to multi-medal Paralympic legends like Muffy Davis and Willie Stewart, Idaho has become a haven for athletes of all ages and abilities to discover their passions and refine their skills on the path to the Paralympics.
IDAHO ATHLETES
Three CAF-Idaho athletes will compete in the Tokyo Paralympic Games in 2021.
Dani Aravich
Being born without her left hand and forearm has never stopped Dani Aravich from realizing her destiny as a competitive athlete. After her time as a D-1 cross country and track and field athlete, Dani quickly became involved in the adaptive sports community where she not only volunteered as a limb-different coach, but also began training for the 2020 Paralympic Games in track and field. Through this training, Dani caught the attention of a U.S. Paralympic Nordic Ski coach who invited her to a training camp in 2019. Although the U.S. Para Nordic Team is in her sights for the 2022 Paralympic Winter Games in Beijing, Dani is focused on her performance as a member of the U.S. Paralympics Track and Field team in Tokyo where she will compete in the 400M sprint.
Will Groulx
Will Groulx served in the United States Navy from 1995-2001 before a motorcycle accident left him paralyzed from the chest down. Seven months after the accident, he discovered wheelchair rugby, the sport that served as the gateway to his Paralympic career. After competing on three U.S. Paralympic Wheelchair Rugby Teams (Athens 2004, Beijing 2008, London 2012), Will made the switch to handcycling. As a para-cyclist, Will won gold and two silver medals at the Rio Games in 2016. This year, Will is competing as a member of Team Bridgestone on the U.S. Paralympics Cycling Team.
Kory Puderbaugh
Kory Puderbaugh was born with congenital limb deficiencies in all four limbs. He spent the early part of his childhood in an orphanage in Poland before being adopted by an American family living in Idaho. Known locally for wowing the community with his wrestling skills, Kory made the switch to wheelchair rugby shortly after graduating from high school in Eagle, Idaho. His dedication over the course of a few short years landed him a spot on the U.S.A. Wheelchair Rugby Team at the Rio Paralympic Games in 2016 where he won a silver medal. This year, he's gunning for gold.
"Without sport, I wouldn't have the same mental clarity, focus and hunger to succeed," Kory said. "I'm so grateful for all the support CAF and its donors have given to thousands of us." – Kory Puderbaugh
THE COST TO COMPETE
For those athletes with a ticket to Tokyo, the cost to compete is often more than lodging and transportation. In fact, over 50% of Team USA has received financial support from the Challenged Athletes Foundation somewhere along their athletic journey, regardless of the sports they participate in. For Kory Puderbaugh, that support came in the form of a Vesco Offensive Sport Wheelchair totaling more than $6,500. For elite athletes like Will Groulx, paracycling equipment can range from $5,000 to upwards of $10,000 per bike.
The expense of adaptive sports equipment can often be an obstacle that keeps those with physical disabilities on the sidelines. Medical insurance does not cover adaptive sports equipment which are deemed "luxury" items. CAF, however, believes sport is a right, and works to overcome this economic barrier. With the right support and proper equipment, the opportunities are limitless.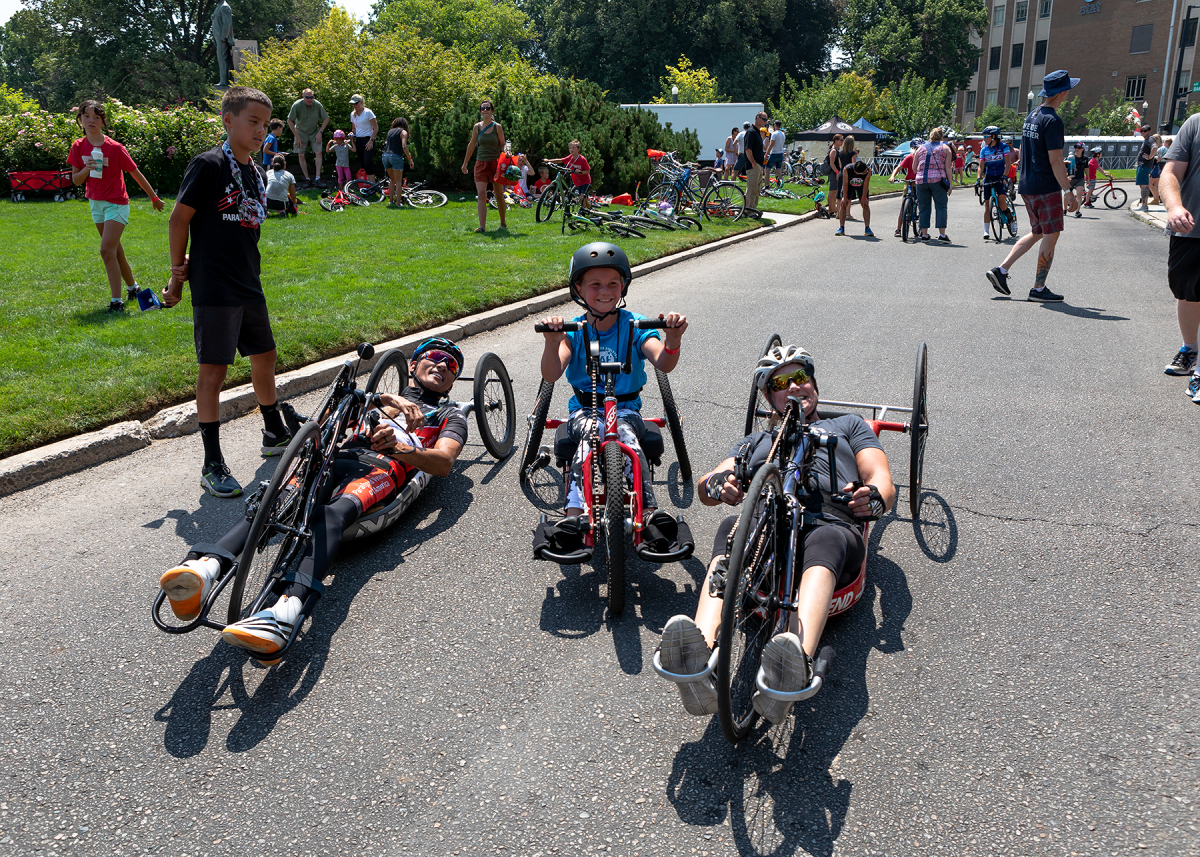 IDAHO'S PARALYMPIC FUTURE
You may find yourself keeping a close eye on the successes of athletes who have already been selected for the Paralympics, but a new generation of competitors is close behind. Through its grant program, camps, clinics, community events and development teams, CAF-Idaho is building tremendous bench strength for future Paralympics.
Athletes like Annie Carey and Brooklyn Gossard have their sights set on future gold medals for track and field and paracycling, respectively. At the U.S. Paralympics Cycling National Championship events in Boise in early July, Brooklyn had the opportunity to race through a criterium course alongside Muffy Davis and Will Groulx, giving those seasoned medalists a run for their money, showcasing just how dedicated she is to achieving her goal of becoming a Paralympian.
"There's always somebody looking at you and you never know; it might be that next kid thinking 'I can do that!'" – Will Groulx
Use the links below to learn more about CAF-Idaho programs and development.